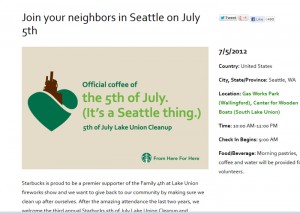 Every year, many Seattleites make their way to Gas Works Park for a great view of fireworks on July 4th.  The fireworks are set off over Lake Union, and the park will be packed with people who watch the show.  And then, they leave a mess.  Starbucks helps, in part, to sponsor this 4th of July tradition.  And then on the 5th of July, Starbucks partners, and many volunteers are needed to help clean up the park.  There is coffee available!  It's a great opportunity to give back to Seattle.  Come clean up the trash, and mess left behind by the crowd of people who came for the 4th of July event.  Your help is needed.  There is more information here:
I'm putting a call out for volunteers!  Please come help!  Many hands make light work.  I will be there.  Please spread the word! Share on Facebook, or Twitter.  Of course, I want lots of people to show up!
And don't forget, if you want to get more involved in community service, here's the Starbucks Community Service login – both customers and partners can register and use it!
http://community.starbucks.com/login.jspa
Oh yes, and if you want to look at my previous blog article about Starbucks and community service, click here.
Related posts