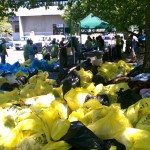 Today was a huge community service day at Gas Works Park, sponsored by Starbucks.  On July 5th,  for several years in a row, Starbucks employees and customers have turned out in massive numbers to pick up litter left behind by the crowds of Seattleites who pour into Gas Works (and the immediate surrounding streets) for a great view of Independence Day fireworks over Lake Union.
And Seattleites leave behind quite a mess.  I can't believe how many empty beer cans I picked up this morning.  It was hard work.  I arrived early and saw the initial sign up area: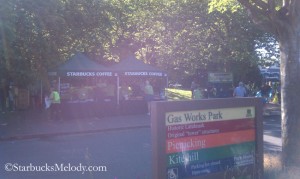 I actually arrived a little too early, but I wasn't sure of how crowded it would be so I figured better early than late.  Actually, I took a blue plastic bag for recycling and headed to a nearby area and picked up bottles.  Then I headed back to the check in, looking for two people I had hoped to meet up there.
As is tradition, Starbucks provided great t-shirts for everyone to wear: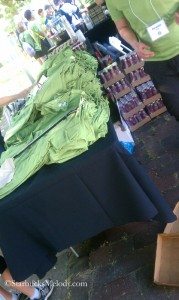 I wanted a good photo of the backside of the shirts.  Before I met up with my friends, I approached a handsome stranger and said, "Do you mind if I take a picture of your back?"  He was totally obliging.  He didn't even ask why, and just said, "sure."  I have no idea who this kind model was for the photo to show off the back of the shirts – but a big thank you to him!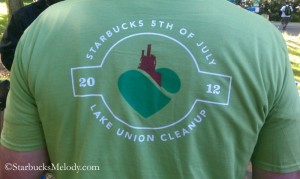 Pretty soon, more volunteers poured in, and I found my two friends (Jonathan and Mindi) whom I'd planned to pick up litter with.
The three of us must have walked several miles.  We returned with a huge bag of trash, and a huge bag of recyclables.  It seemed like there was way more trash than last year.  As a group, Starbucks partners and customers picked up a lot of trash!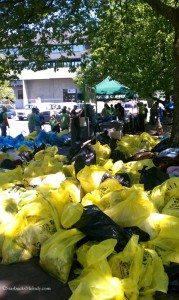 By the way, as we were out picking up litter, Jonathan found a little "Jesus" mini license plate charm.  We joked that Jonathan had managed to "find Jesus" during community service: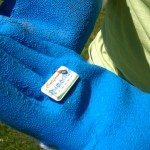 I wasn't initially planning on writing a blog post on this day, but I decided to for two main reasons.  First, I think it's important that Seattleites know how much Starbucks gives back to this town.  Seattle IS Starbucks' home town, and so Starbucks really does do a lot to try to give back to Seattle, and this is a good example.  Secondly, we could have used more volunteers.  This year, unlike last year, my understanding is that Starbucks sponsored two separate clean up events.  The other one was at the south end of Lake Union.  There were noticeably fewer people at Gas Works this year, and that clearly is because volunteers were split up between the two sites.  I only visited the Gas Works Park clean up, so I can't speak to how busy or crowded the South Lake Union neighborhood event was.
If you want to get involved in community service through Starbucks-arranged events, check out their community service website:
When the community service was over, Mindi, Jonathan, and I walked down to the edge of Gas Works Park and chatted and admired the view of  the city across Lake Union.  What a gorgeous day.  I really do love Seattle.  (I know there are beautiful places everywhere, but I just have a crazy love for this city.)  Take a look at the view: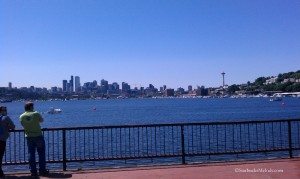 Hope to see you there next year!
Related posts