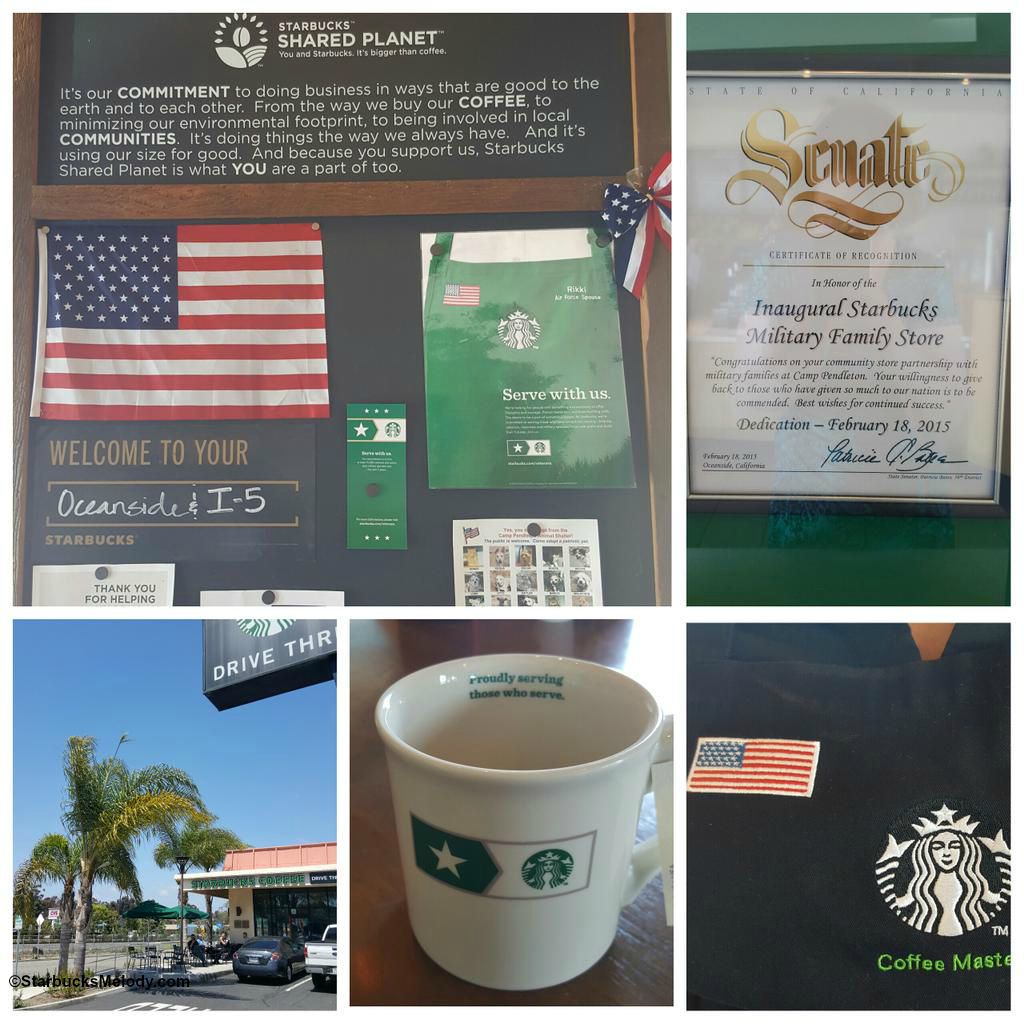 The Story of the 'Proudly Serving Those Who Serve' Starbucks Mug.
Melody, July 21, 2015
3
5 min

read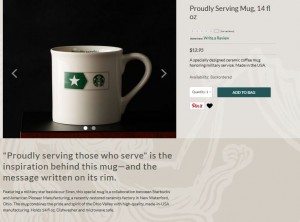 A beautiful Starbucks mug recently showed up on Starbucksstore.com. It's the "Proudly Serving Those Who Serve" mug. There wasn't a lot of background given to this mug so I thought I'd share a bit of the story, as I understand it. The "Proudly Serving" mug is already backordered, as its a highly coveted mug!
The first part of the story is simply whom the mug was designed for. It was designed by partners at the Starbucks headquarters and designed to be given to partners. (Starbucks calls their employees "partners".) If you work for Starbucks, and you've ever served in the service, you're in the Reserves, or you're a current military spouse, you can sign up on the Starbucks Roll Call website to be recognized by Starbucks. Hypothetically speaking, if I worked for Starbucks (I don't), I would indeed sign up: I was active duty Air Force for exactly four years, between the ages of 18 – 22, honorably discharged, with my last assignment at McChord AFB in Tacoma, Washington. (This was before it was Joint Base Lewis McChord).
Once a partner signs up with the Roll Call website, he or she will receive a special green apron highlighting that military affiliation, and will be recognized on the Starbucks Honor Wall inside the Starbucks headquarters. As I understand it, partners who signed up on the Starbucks Roll Call website and agreed to a CUP fund donation at the same time, were sent this special made-in-the-USA "Proudly serving those who serve" mugs. I've heard mixed things as to whether partners were required to make a donation or not to get this mug.
Nonetheless, Starbucks designed this "Proudly serving those who serve" Roll Call mug for this audience: Partners who are eligible to sign up under Roll Call.
It's possible that you've seen this mug inside a Starbucks store. Starbucks shipped these mugs to two Starbucks locations.
Oceanside & I5 Starbucks – This is a "Military Family Store" and located near Camp Pendleton.
Falcon Hill Starbucks – This is a "Military Family Store" and located near Hill Air Force Base.
You might be wondering what a Military Family Store is? I tried to gain clarity around this subject and received a canned public relations statement that these stores have goals to support their neighborhood military communities "through on-base recruiting events, in-store networking events, an evergreen Veteran & Spouse recruiting poster on one of our community boards, and community-related events such as deployment ceremonies, homecomings and other locally-relevant activities."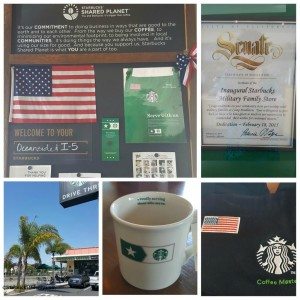 I visited the Oceanside Military Family Starbucks in May of this year and had a great visit: The partners were friendly and you could see signs around the store indicating their designation as a Military Family Store. Though there's no requirement to have a certain number of veterans working at one of the Military Family Starbucks.
I did meet a veteran at the Oceanside store: Austin Farmer. I got to sit down with this partner and hear his story of how he came to Starbucks after ending his service commitment. He's a passionate partner with a great story.
These Military Family Stores are increasing in number (or at least Starbucks has said there will be 11 additional Military Family Stores before the end of 2015). A Military Family Store does NOT have a donation component to it. If you purchase this mug at one of the two Military Family Stores, you're buying a mug and there is NOT an element where a portion of the proceeds goes to a military-veteran-related good cause.
And a Military Family Store shouldn't be confused with a Starbucks "Community Store." A Military Family store is a third place: a store involved in its local community.
The Starbucks "Community Store" model partners with an area non-profit to make a donation to benefits its community. Whether or not this is what was intended, it looks like the rate of number of Community Stores is slowing, and the rate of the number of Military Family Starbucks is growing. At least as just an outsider looking at Starbucks, that's what it looks like.
It's a little confusing to me: I heard no news about new Community Stores in the past year or two. Yet in 2013, Starbucks said, "The potential for impact at scale has us moving forward. Our goal in the next 5 years is to bring more than 50 community stores to neighborhoods where we do business around the globe." As I write this, I'm not aware of anywhere close to 50 new community stores since 2013.
There is also a Military Community Store: That's just a Community Store that donates to a non-profit that helps veterans. In 2013, the Seattle Times reported that Starbucks converted a store near Joint Base Lewis McChord to a Military Community Store. There's also a Military Community Store in San Antonio. The Seattle Times reported, "The Lakewood Starbucks, at 10314 S. Tacoma Way, will give 10 cents per transaction to a Goodwill program, Operation: GoodJobs, which helps veterans with their post-military job searches. In San Antonio, Starbucks will partner with Vested in Vets, another Goodwill program."
So now you should have it down:
The Proudly Serving Those Who Serve mug was designed as part of Roll Call and may be found at Military Family Starbucks.
There is a store model called the Military Family Starbucks.
There is a store model called the Community Store, which donates to a local non-profit. And a subset of these are Military Community Stores, in Tacoma, Washington and San Antonio.
I think it's possible that there are a lot of partners and a lot customers who have no idea about these unique Starbucks stores, so hopefully this helps clear that up!
Related posts