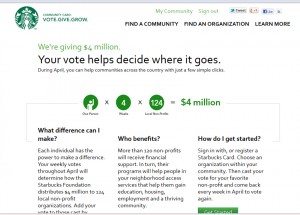 During the month of April, Starbucks is inviting customers to vote for non-profit organizations who potentially may receive monetary donations from the Starbucks Foundation.  Starbucks is giving away a total of $4 million dollars.  The starting place is this website here:
Starbucks card holders can log in to that site and vote for a non-profit organization.  When you log in, it automatically defaults to your region.  You can change your region if you want.  The examples below are for Seattle, but your region might have completely different non-profit candidates to vote on!
For the voting page, here's what I saw: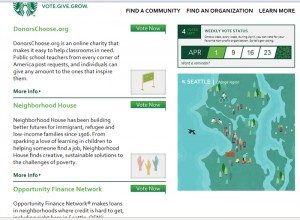 Be sure to scroll down to see all your choices.  In Seattle, the four choices are as follows:
1) Donorschoose.org – A non-profit that through donations helps fund needy classrooms.  I really do like this non-profit.  They help schools that are poorly funded, and that struggle to provide an excellent education to children.  This non-profit is based out of New York City, and although I like supporting them, I wanted to vote on something local to Seattle.  If you want to follow DonorsChoose on twitter, their profile is here.
2) Neighborhood House – This is a Seattle non-profit that offers a wide variety of services to at-risk groups.  There are classes to help immigrants apply for citizenship; classes for at risk children in schools; resources to help elderly live independently; and much more.  I voted for this organization because I wanted something local, well-established, and providing great resources to at risk Seattleites.  If you want to follow the Neighborhood House on twitter, their profile is here.
3)  Opportunity Finance Network – I don't think I have to say much about this partnership because Starbucks has already heavily promoted this organization.  I previously wrote about OFN last November in this blog article here.
4)  Solid Ground – This is a non-profit in Seattle also designed to combat poverty.  To be honest, it was the only one of the four that I was not already familiar with.
 I found it tough to make a decision!  It looks like four very good choices!  This week I voted for Neighborhood House, but maybe next week will be DonorsChoose.
Hope you vote! You get one vote a week.  I don't usually post two articles in a day, but since this week is nearly over and there is still time to vote, I published this right away.
**************
In other news, Starbucks has announced that there soon will be a seasonal drink called the Mocha Cookie Crumble Frappuccino.  And I think it is pretty cool that Banana Republic has joined Starbucks in supporting the Opportunity Finance Network.  Banana Republic will have two shopping events where five percent of the sales gets donated to the OFN.
It's been quite a while since I've had an open thread, so here it is.  Please feel free to talk about anything Starbucks-related!
Related posts