For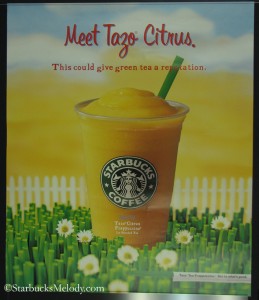 those who recall the Tazoberry line of drinks, Starbucks introduced the "Tazo Citrus" new on April 24, 2002, shortly after the success of their first drink, Tazoberry.
Tazo Citrus was a blended green tea with tangerine and orange juices, and a hint of lime.  I found an interesting review of the Starbucks Tazo Citrus beverage in an old Houston Chronicle article (dated June 14, 2002) – the author seemed to love the drink, but think it too expensive.  Here's an excerpt:
This week I broke my piggy bank and reached out for a "venti" (that means extra large) nonfat, nondairy, noncoffee Tazo Citrus drink, new from Starbucks.
Here's the blueprint: a 20-ounce icy blend of tangerine and orange juices, with a hint of lime and Tazo green tea.
Total calories: 250. Fat grams: 0. Dietary fiber: 0 grams. Manufacturer's suggested retail price: We're talking about a Slurpee that'll run you $3.85.
Welcome to Starbucks; who's next, please?
For something that's non-this and non-that, the Tazo Citrus carries a pretty hefty price tag. The green tea isn't the only thing that's steeped.
Naturally, Starbucks' icy drink commands top dollar because it's made with real fruit juice and expensive imported tea leaves from the Tazo Tea Co., which happens to be Starbucks' private label. It's an inside deal.
Tazo green tea boasts special "calming and rejuvenating" properties. Hey, one or the other. Stop tugging me in different directions.
Here's something new for the Drive-Thru Gourmet – a product that actually is good for you. Each Tazo Citrus provides 50 percent of the recommended daily requirement for Vitamin C.
I know it's a bit long, but I'd like to also share the entire BusinessWire.com press release for this beverage:
Today, customers at Starbucks Coffee Company (Nasdaq:SBUX) will use signature green straws to sip two new blended beverages to help squelch the summer heat. The first of these beverages, Mocha Coconut Frappuccino(R), is an indulgent treat of rich chocolate and real toasted coconut blended with coffee, milk and ice, then topped with whipped cream, chocolate drizzle and more toasted coconut. The second beverage, Tazo(R) Citrus, is an icy blend of tangerine and orange juices, accented with a hint of lime and Tazo green tea. Both of these tasty treats are now available at Starbucks retails stores across North America.
"For many customers, Frappuccino means summertime at Starbucks, so we set out to develop new blended beverages reminiscent of the season," commented Howard Behar, Starbucks president, North American Operations. "This summer, the tropical flavors of Mocha Coconut Frappuccino and Tazo Citrus will take your taste buds to the beach–if only for a moment."
Mocha Coconut Frappuccino rewards customers with the irresistible combination of chocolate and toasted coconut, perfect for a day or evening treat. A cool blend of Starbucks coffee, milk and ice, Frappuccino(R) Blended Beverage is a handcrafted beverage introduced in 1995. The original Frappuccino flavors — coffee and mocha — have been joined over the years by Espresso Frappuccino(R), Caramel Frappuccino(R), Chocolate Brownie Frappuccino(R) and now for a limited time, Mocha Coconut Frappuccino.
In April 2001, Starbucks introduced Tazo(R) Ice Blended Tea as a non-coffee, non-fat and non-dairy alternative to accompany its Frappuccino Blended Beverage. Tazo Citrus joins Tazoberry(R) in the category this summer, providing customers with their choice of two cool and healthy coffee alternatives for the summer months. For those looking for a little more indulgence, try a Tazo(R) Citrus and Cream or Tazoberry(R) and Cream, combining Starbucks exclusive Tazo Ice Blended Tea with cream and topped with whipped cream.
Starbucks Coffee Company is the leading retailer, roaster and brand of specialty coffee in the world. In addition to its retail locations in North America, Europe, the Middle East and the Pacific Rim, Starbucks sells coffee and tea products through its specialty operations, including its online store at Starbucks.com. Additionally, Starbucks produces and sells bottled Frappuccino(R) coffee drink and a line of superpremium ice creams through its joint venture partnerships. The Company's other brands enhance the Starbucks Experience through best-of-class products: Tazo Tea Company offers a line of innovative premium teas, and Hear Music produces and distributes a line of exceptional compact discs.  
CONTACT: Starbucks Coffee Company
Kelly Hewitt, 206/318-8169
http://www.businesswire.com/cnn/sbux.shtml
NOD+ number is: 800/239-0317
or
Edelman Worldwide
Carmen Zaffarano, 206/223-1606 x258 
I think that Starbucks is still trying to innovate around the category of non-dairy blended beverages.  Recently, Starbucks did massive testing of both the Pink Lime Frozt and the Coconut Lime Frozt, and from what I know, the response was very positive.  I think it will be interesting to see if Starbucks will again try to introduce another non-dairy blended drink into the lineup.
Hope you enjoyed the  Tazo Citrus poster and Starbucks history lesson.  You can browse the whole Tazo Tea category by clicking here.
Related posts