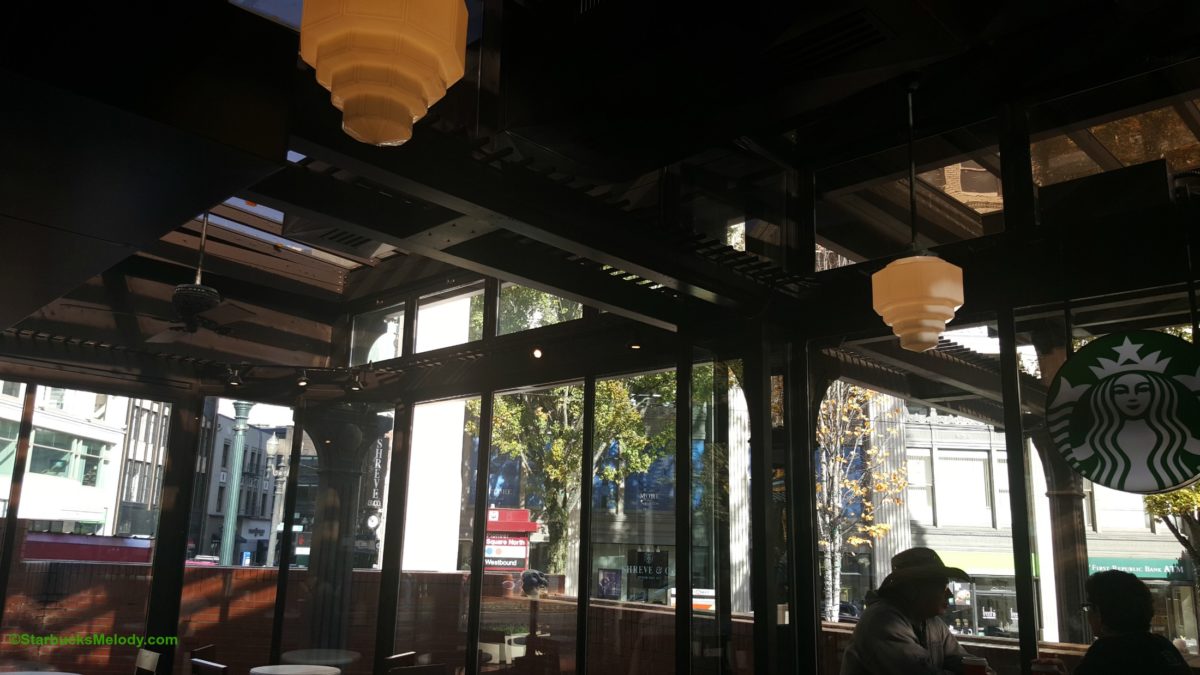 #TBT The First Starbucks in Oregon.
Melody, November 5, 2015
4
4 min

read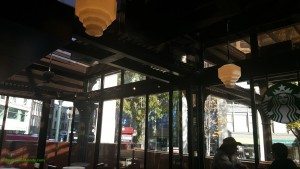 The first Starbucks in Oregon opened up August 28, 1989! It's been continuously operating at its location for 26 years!
It's the Pioneer Courthouse Starbucks in downtown Portland, at 720 SW Broadway. (Starbucks store number 401).
The Oregonian newspaper wrote an article about this store, featured in the business section on August 23, 1989.
The newspaper article began with, "Starbucks Coffee Co. will serve up steaming cups of gourmet coffee and fresh pastries at Pioneer Courthouse Square starting Monday morning. The restaurant location, vacant for several months, will be the first of three Starbucks outlets planned for the Portland area this year and is intended to showcase the Seattle-based company's products, according to Howard Shultz, president of the 18-year-old specialty coffee chain."
The following Monday after August 23, 1989, would have been August 28, 1989, giving us the store's grand opening date. Notice the newspaper spelled Howard Schultz's last name wrong! One thing I would note, is that I would expect (an educated guess) is that if you were to ask Starbucks media relations what day store 401 opened up, they'd give you a totally different day. Experience (meaning both conversations with representatives from the Starbucks media relations department as well as my own research) has taught me that for some very old stores, the actual date that the front doors swung wide open for business was not archived or recorded by Starbucks. For very, very, old stores, if you ask Starbucks media relations the date it opened, sometimes what you'll get is the date that the lease was signed. Obviously the day that the lease was signed and the doors opened for business could be two totally different dates.
I'm going to highlight a few more excerpts from the Oregonian news story:
"Shultz said Starbucks, which operates 39 outlets in the Seattle-Tacoma area; Vancouver, British Columbia; and Chicago, had been planning to enter the Portland market for more than a year. "We felt strongly that we wanted to make a large, visual impact," he said. "This location will give us an opportunity to display our wares." 
I also find it interesting that Starbucks opened in Chicago before Portland!
Here's more:
David Porter, executive director of Pioneer Courthouse Square, said Starbucks was selected as a tenant after a seven-month evaluation to determine what business might be best for the location. Porter said the organization solicited proposals from 35 local retailers, eight of which submitted plans that included a pizza parlor, a Chinese restaurant, an ice cream parlor, a muffin and yogurt stand and a pub.

He said Starbucks was the only out-of-town business that asked to be considered. "What Starbucks is going to do will be much more targeted to downtown and to the square" than the previous operations, Porter said.
The company, which signed a five-year lease for the 1,100-square-foot property with an option to renew for five more years, also has a successful track record and sufficient financial strength to make the operation work, Porter said.
The store will feature 34 varieties and blends of coffee, coffee drinks, juices and sodas. Portland caterer Ron Paul will provide the food for the restaurant — the most food-oriented outlet in Starbucks' chain — with a menu featuring fresh pastries in the morning and Italian-style sandwiches, salads and desserts during the day.
Shultz said plans call for opening two more Starbucks in the Portland area before year's end, one at Two World Trade Center and one along Southwest Alder Street. He said it was doubtful the company would open a third outlet in the Rouse Co.'s Pioneer Place project.  Altogether, Shultz said Starbucks plans to have 50 stores by the end of the year.
It is amazing that the store opened offering 34 varieties of coffee! That's a lot of coffee offerings!
Here's how this Starbucks looks now:
This article was inspired by this press photo, which I purchased off eBay recently. The press photo features Howard Schultz inside the Pioneer Courthouse Starbucks, shortly before it opened. The reverse side of the photo has handwritten in ink (and scribbled) "oregonian" and the date 8-23-1989. From there, I did some work to hunt down the original Oregonian newspaper news story.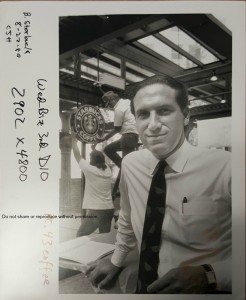 Related posts