There's a wedding at the Westlake Center Starbucks!
Melody, July 24, 2012
18
2 min

read
There's a wedding at the Westlake Center Starbucks!
Congratulations to Stacey and Lin, who officially married on Saturday, July 21, 2012, at the Westlake Center Starbucks.  The happy couple are from La Grande, Oregon, and both love Starbucks.  Hubby Lin Casciato told me that he'd take Stacey to Starbucks "every day" if he could.  They felt that a Starbucks in Seattle represented to them all that Starbucks was about, and wanted to marry at a flagship store.
The wedding was officiated by Bronwen of Seattle-based Shotgun Ceremonies company, in Seattle's Pioneer Square neighborhood.  Stacey and Lin are both huge fans of the New York Yankees so the wedding theme was a blend of Starbucks and the New York Yankees.  The couple got married with Starbucks beverages in their hands!
This Starbucks has large picture windows facing Pine Street and Fourth Avenue, and in spite of being very small, the wedding worked out flawlessly!  Here's the happy couple, and wedding party, with Bronwen in the corner of the image, holding the script for the ceremony: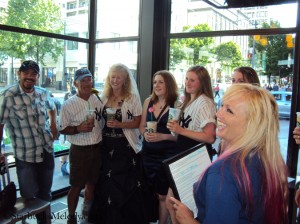 Here is the whole wedding party!  Everyone looks so happy!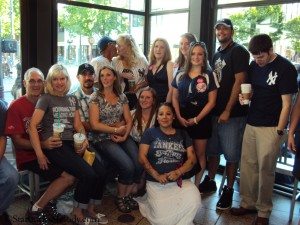 Afterwards, Stacey and Lin signed their wedding certificate: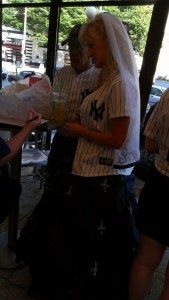 A big shout out goes out to Suzi, a Starbucks partner in downtown Seattle, who decorated the store's chalkboards in honor of the festive day: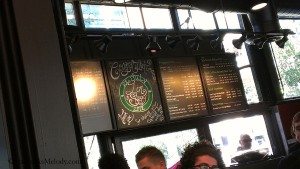 Here's what the exterior of this store looks like: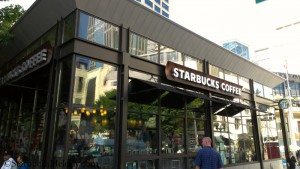 It's been a long while since I've featured this store on this blog. My last article about this Starbucks was here, when the store was decorated for last year's holiday season launch.
Thank you Stacey and Lin for the privilege of featuring your wedding on my blog!  I am honored.  Here's to the happy couple!  (Imagine the sounds of clinking iced venti cups. ;))
Related posts