The most recent coffee tasting at the Olive Way Starbucks was an exercise in comparing beans from a freshly-opened bag with stale beans.  It was a very interesting experience, and I recommend trying this.  If you've ever wondered if that bag of coffee that has been sitting on your shelf for two weeks is still good, you'll now know that the answer is  firmly "no."  We compared beans from three different bags of coffee.  They were all the Komodo Dragon Blend, and all prepared via a French press.
The three Komodo Dragon bags:
Fresh:  One bag was freshly opened right before grinding and brewing the coffee.
 Stale:  One bag had been opened two weeks before the coffee seminar on August 13, 2012, and simply stored in the back room of the Olive Way Starbucks.
Frozen:  The third bag had been opened about eight days before the coffee seminar, and stored for all eight days in a freezer.
The important takeaway from this event was that freshness matters!  Use your coffee within seven days of opening up the bag.  Do not store it in your freezer.  Starbucks recommends that you store your coffee in an air-tight container, away from light and moisture.  A ceramic container with a nice seal may be perfect for storing your coffee.
One could even simply glance at the three sets of coffee beans all side by side, and easily see a difference in them: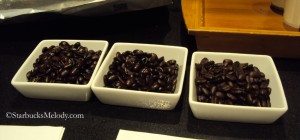 By the way, there was a pretty good audience in attendance for this seminar.  It seems like Olive Way has built up a regular audience of partners and customers who want to experience their coffee tastings.  If you want to attend a coffee tasting, they are every other Monday evening, at 6:00 p.m.  They are free to attend!  Call ahead and confirm the schedule:
Olive Way Starbucks
1600 East Olive Way
Seattle, WA 98102
206-568-5185
The famous Mikey joined in this coffee tasting.  You might recognize Mikey from the window cling found on every company-operated Starbucks in the United States.  Look for the window cling that says, "Opportunity."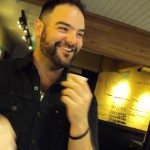 Back to the coffee tasting:
Just as a reminder, the four steps of a Starbucks coffee tasting are as follows:
Smell – Take a good sniff and smell the aroma.
Slurp – Once the coffee has cooled to a drinking temperature, take a large slurp of it, aerating and spraying it all over your mouth.
Locate – Make a note of where the flavors hit in your mouth? Do you taste this coffee on the sides of your mouth?  In the front?  In the back?
Describe – Describe the coffee flavors.
For some of my thoughts on elements of a good coffee tasting, take a look at "Melody's top 10 coffee tasting tips" article.
Thank you to Megan and Jess, the two coffee masters who put this event together!  Here's the coffee tasting in full swing, with Megan passing sample cups to the attendees: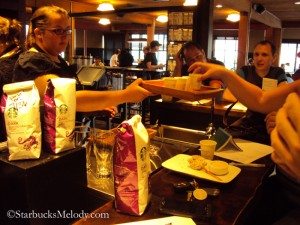 Fresh:
The freshly-opened Komodo Dragon beans had a complex aroma with lots of maple, cinnamon, and spice notes.  The coffee was beautifully smooth, with a sweetness to it, and a large bold flavor.  I tasted a lot of cinnamon in the fresh Komodo Dragon.  It's a low acidity coffee, and I tasted it all over my mouth.
Frozen:
One thing that was remarkable about the beans that were frozen was that they had lost all their aroma.  I could not detect any aroma at all.  It was simply all gone.  This makes for a terrible cup of coffee.  The customer sitting to my right blurted out, "This tastes like crap!"  The coffee had managed to acquire a very bitter aftertaste also.
Roasted coffee beans are very porous.  They will indeed easily absorb flavors.  If you think about a flavored coffee, such as a hazelnut flavored coffee bean, one reason it is easy to produce such a product is because beans are porous.   Beans stored in a freezer might pick up flavors of other items in the freezer, such as fish or meats!
Stale:
The stale coffee looked the worst of the three bags of coffee, by a long shot.  Comparing the freshly-opened coffee with the two-week old coffee beans, one can see a clear difference in the beans.  The stale coffee bean has lost its shine!  Oddly, the coffee still had a very slight aroma.  The aroma was flat and blunted, but still had a very slight spicy note to it but seemed to also be a little salty too.  The brewed stale coffee had lost its smoothness, and also had a bitter bite to it.  Take a look at the fresh beans side by side with the two-week old stale beans: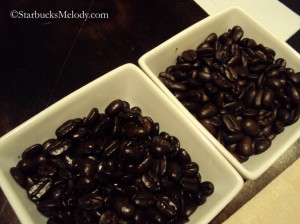 When the coffee tasting was all over, we checked the back of the Komodo Dragon bags to make sure that they all had similar expiration dates, as that could possibly affect the results.  Sure enough, all three bags were within a couple of weeks of each other in terms of their expiration dates.
Last but not least, we paired a French press of the fresh and good Komodo Dragon with the Rosemary Brown Sugar Cashews, which are part of the Evenings food menu.  That was a really great pairing and brought out a lot of the savoriness to the coffee.
The bottom line is use your coffee beans within 7 days of opening up the bag!
Jess winds down the event, reminding everyone about the importance of fresh coffee and proper bean storage: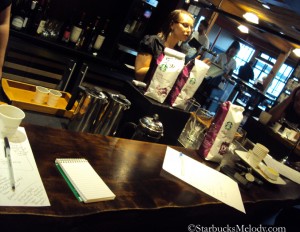 Thank you again coffee masters Jess and Megan!  I thoroughly enjoyed this seminar!  This truly brought home the importance of whole bean storage!  If you want to follow Olive Way on Twitter, follow @GayleOnOlive.
If you like reading about coffee tastings, click through the coffee tastings category for many more articles.
Related posts