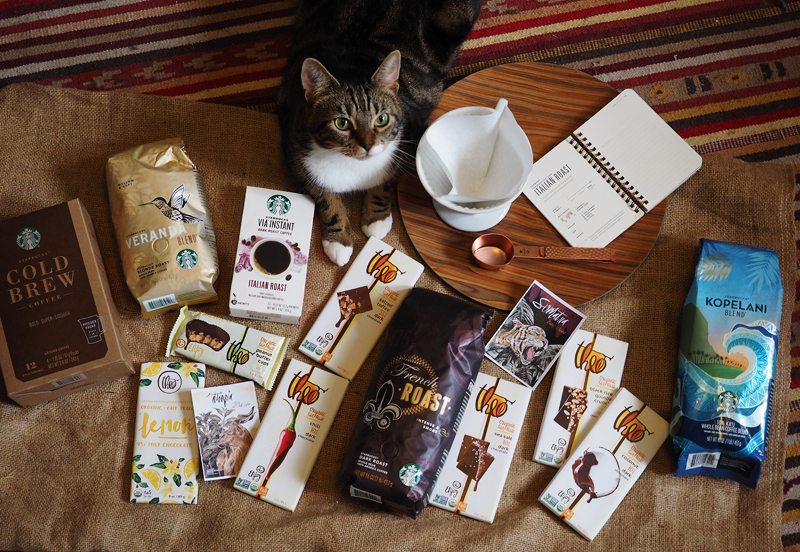 Theo Chocolate Tasting. Try these coffee pairing ideas.
Melody, August 21, 2016
4
6 min

read
My friend Jocelyn, also known as TheModernBarista.com, recently explored pairing Theo Chocolate with Starbucks coffee. The results are spectacular. Try these yourself.
Here's her Theo Chocolate with Starbucks coffee pairing work and story: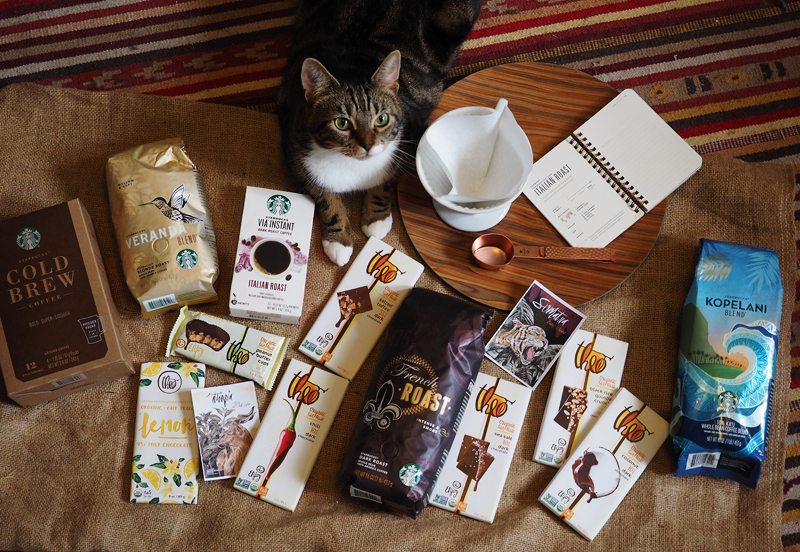 Theo Chocolate is based in Seattle's Fremont neighborhood. They make the most incredible chocolates! Starbucks was testing Theo Peanut Butter Cups in select stores, and my friend Melody went to Theo Chocolate to get an up close and personal tour. During her tour, she sent me a message, saying she needed my address "right now". I sent it along, and a few days later, a huge box of chocolates was on my doorstep, compliments of Theo chocolate. Thank you Theo Chocolate & Melody! I put together a coffee tasting with the seven chocolates I was sent (actually, there is one missing because I had to taste test it 🙂 )Here is a list of what I tasted today:
A few disclaimer type things…
All of these coffees were prepared via the pour over brew method, with the exception of the cold brew and the Via Instant (obviously).
All of the chocolate bars were provided by Theo chocolates, free of charge. I was already a huge fan of Theo prior to this, and have been to their store when we were in Seattle. Seriously, amazing chocolates.
My cats love to help me with coffee tastings, and Roscoe, the one in the main picture, loves to drink coffee. If star bucks would like to hire cat models, I know a few felines who would be purrfect for the job 😉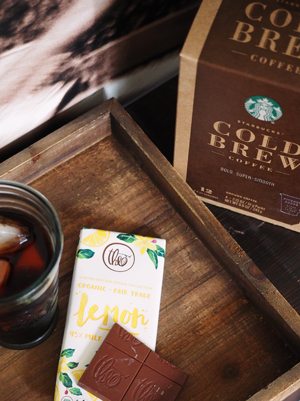 Starbucks Nariño 70 Cold brew paired with the Spring Lemon bar:
This is a milk chocolate bar with bright pops of lemon that really compliment the cold brew. I am absolutely in love with the new cold brew filter packs. I make cold brew every day with all sorts of different coffees, but the Nariño 70 is my favorite. It has a great balance of chocolate notes but also pairs well with lemon! You also might have noticed a name change..
Nariño 70 pays tribute to where this great coffee comes from. 70% Colombia and 30% from Ethiopia. The result is a bold & smooth blend with notes of chocolate and citrus.
(Note: The Lemon Milk Chocolate bar was a seasonal Theo Chocolate offering, and may be more difficult to find than the others in this article).
Italian Roast VIA paired with Dark Chocolate Salted Toffee bar: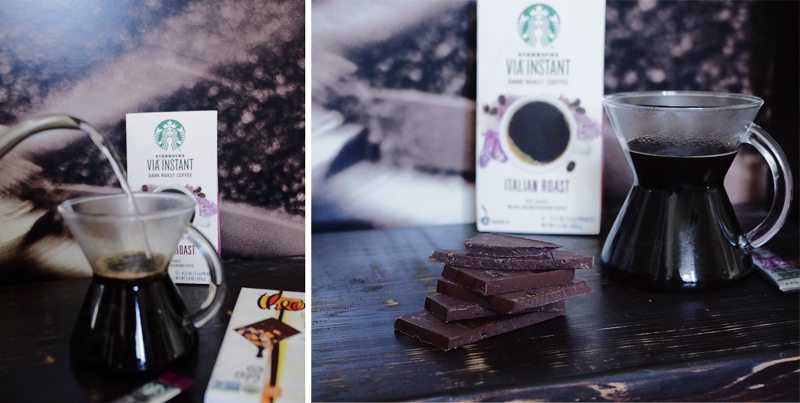 This chocolate bar is 55% cacao so it is slightly darker, but still very sweet to bring out the sweetness in the Italian Roast. I chose VIA Instant because this is something that I use every single day at home. The toffee bits in the chocolate balance the slight bitterness of the Italian Roast, rounding out into a nice sweetness.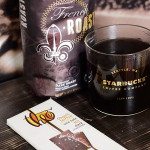 Starbucks French Roast with Dark Chocolate Sea Salt bar:
French Roast is a very polarizing coffee. People either love it or hate it. I love it, and I especially love it made via pour over. It's slightly less intense, but it still retains that smokiness that French Roast is known for.
I paired this coffee with the 70% dark chocolate bar with sea salt. I love salty sweet flavors, and these really play well with the French Roast.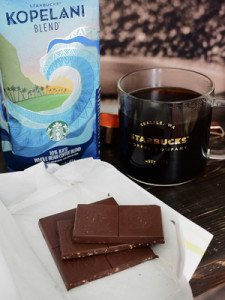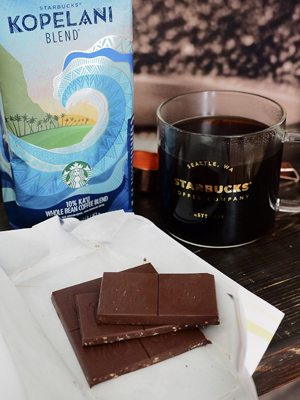 Kopelani Blend with Dark Chocolate Coconut bar:
Kopelani blend is the current seasonal coffee and it is my favorite! My store just ran out a few days ago, but I am hoping I can get a few more bags before it's gone for good.
Kopelani is a blend of beans from Latin America, East Africa and Ka'u. I decided to celebrate the tropical aspect of this coffee and pair it with the Dark Chocolate Coconut bar. This is a next level type chocolate bar. It is a 70 percent cacao with pieces of toasted coconut.
I love how well toasted coconut pairs with the Kopelani, the caramelization really lends itself to the sweet soft flavors of the Ka'u.
Single origin Sumatra paired with Dark Chocolate Black Rice Quinoa bar: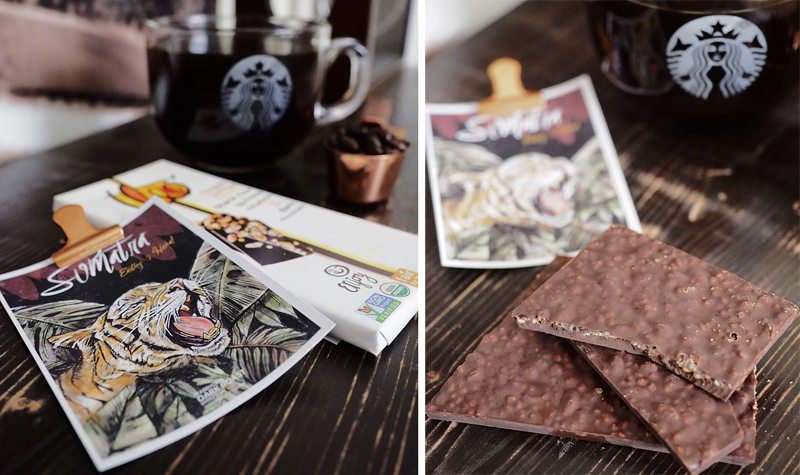 This was my favorite pairing out of the lot, largely due to the intensity of the chocolate. This is 85% cacao, which is super dark and bitter. My favorite! I decided to pair this with the core Sumatra because the forbidden black rice has such an earthy quality, and because the chocolate is so dark, it's not drowned out by the sweetness.
The card featured here was done by my friend Becca, who is a district coffee master in the UK. These cards were launched during UK coffee week, and customers could purchase them and the proceeds would go to Project Waterfall. Check out the Starbucks press release here and check out Becca's website here!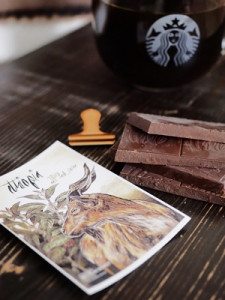 Starbucks core Ethiopia with Dark Chocolate Chili bar:
Ethiopia is one of my favorite core coffees, and I love pairing it with anything spicy! When I saw the chili bar, I knew I was going to pair it with Ethiopia, but this chocolate bar is a work of art. It is incredible. It is a 70% chocolate with guajillo chili, cinnamon, pasilla chili and a subtle hint of citrus. It is warm, tangy and delicious!
When I first bit into the bar, I felt it was kind of blah, and then the heat came, and I was hooked. The absolute perfect pairing for Ethiopia.
The artwork here is also by Becca Turner. 🙂
Last but not least, Veranda Blend paired with Milk Chocolate Peanut Butter Cups: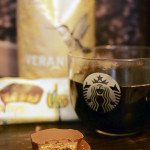 Starbucks was/is testing these peanut butter cups in select stores. They are available in milk and dark chocolate. I was sent both, however, dark chocolate & peanut butter is one of my favorite things in the whole world and I couldn't resist.
These aren't your average peanut butter cups. These are made with CB nuts peanut butter, which is in a little town called Kingston, Washington, not far from where we use to live! These are a perfect pairing with Veranda Blend, as they are overall not sweet. The first thing I noticed was the smell of the peanut butter cups complemented the coffee, very roasty and savory. The milk chocolate here isn't overly sweet, and didn't overpower the Veranda at all!
There you have it! Seven chocolates and seven coffees! I had so much fun putting this together, taking pictures, drinking coffee and of course eating chocolate! 🙂 Drop me a comment about what your favorite Theo chocolate pairing is, and I'll give it a try!
**************************************
Thank you to the Modern Barista for her coffee adventure and expertise! Great coffee pairing ideas!
The first Theo Chocolate story featured the Dark Chocolate Peanut Butter Cups. (I have to say, I thoroughly enjoyed the Dark Chocolate Peanut Butter Cups. So good!)
Follow us on Twitter: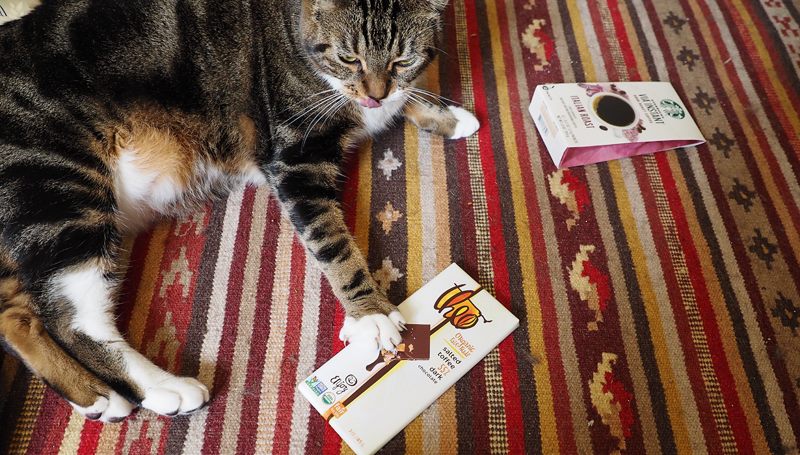 Related posts