It was a sea of green bell peppers.  Box after box of them.  Very large boxes that had to be moved with a small forklift.
I went to Food Lifeline this afternoon to help out in their warehouse …
This blog post doesn't involve Starbucks! (well, a tiny bit at the end) … Now that I have that out the way, I shall continue:
I've decided that being engaged with a non-profit is a good way to give back to my community, and so every now and then, I'll be writing about volunteering with Food Lifeline.  This afternoon, I arrived shortly before 1:00 p.m for an afternoon volunteering shift.   Here's the outside of Food Lifeline: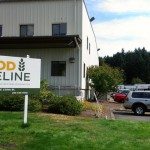 Once inside, Molly, the volunteer coordinator enthusiastically greeted me!  She really works hard to create enthusiastically engaged volunteers!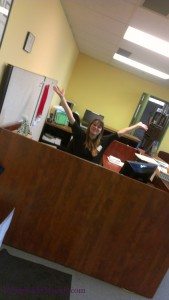 All of the volunteers were ushered to a large warehouse … oh it looked oh so deceptively peaceful before the bell pepper madness began: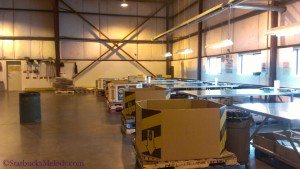 Food Lifeline receives about 94% of its food by donation.  Occasionally they do purchase a small amount of food, but overwhelmingly their food comes from strategic partnerships with businesses, corporations, and even directly from farmers and growers.  These very large boxes of peppers came up from California, and were part of an unusual purchase of food.  Our job was to repack, and sort the very large boxes of peppers into much smaller boxes that would be more appropriate for distribution to either food banks or meal programs.  About 300 food banks and meal programs receive food from Food Lifeline.  At the far receiving end of this chain may very well be you or your neighbors.  The need for food banks and meal programs is unfortunately very high.
As we worked, the damaged bell peppers were tossed into the compost.  I didn't take a photo of the insides of the compost bins … it sort of looked like bell pepper madness gone wrong.
We also wiped the peppers clean of excess water and slime before packing them into boxes.  Some volunteers had the job of repeatedly weighing the bins of compost.  Apparently, Food Lifeline had made an agreement to receive a refund back for some portion of damaged product.  As for myself, I stood there and packed and packed and packed peppers.  And then I packed more peppers into boxes.
And then I packed more peppers into boxes.
This was what our beginning box of peppers looked like: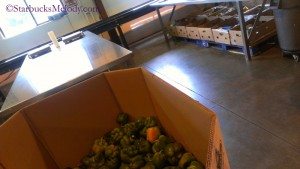 Here's one of my boxes of re-packed bell peppers: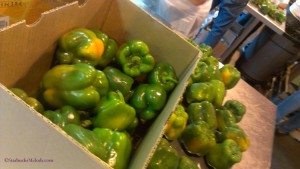 By the way, as the larger container of peppers were emptied out, Ben, a Food Lifeline employee, would come along with a forklift and bring yet another box: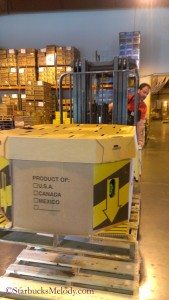 We found a lovely red pepper in one box!  It really stood out!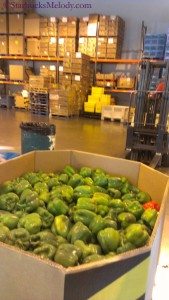 After we packed up boxes, we placed them on a conveyor belt, and a small group of volunteers near the end of the conveyor belt neatly stacked the boxes:
Are you hungry for peppers now? 🙂
That was my afternoon of volunteering!  The volunteer coordinator told us that we repacked about 3,900 pounds of peppers. If you're reading this and you're here in the greater Seattle area, I highly recommend that you volunteer with Food Lifeline.  They count on very large numbers of volunteers to get their work done!  They need your help!  Be sure to follow them on Twitter too.
Here's my previous episode of volunteering with them.
Back to the topic of Starbucks, if you're just looking for volunteering opportunities, both customers and partners may register and use the Starbucks Community Service webpage. By the way, it wasn't all that long ago that Starbucks had a program called "Make Your Mark."  It's actually been a while since I've heard any partners mention it – Starbucks agreed to make a small monetary donation to a non-profit if a certain number of volunteers worked at a volunteering event.  Food Lifeline would be perfect for a "Make Your Mark" event.  Does "Make Your Mark" still exist?  I would assume so.
After the volunteering was all done, I hopped on a bus and returned home to downtown Seattle.  Ahh home sweet home.  I went to one of my favorite downtown Starbucks and told the partners all about volunteering.  It was slow, so I showed them photos of boxes of peppers on my phone.
Mark, a super nice partner who's only been with Starbucks about 10 months, said to me "Melody, Can I buy you your drink today? Thank you for giving back."  It was truly a surprise and a delight.  I ordered a cool lime Refresher (no modifers) which was highly refreshing after an afternoon of bell pepper madness.  Thank you Mark.
Related posts