Starbucks launched Anniversary Blend on September 5th this year!  This coffee has returned every single year since 1996, which was the year Starbucks introduced it as tribute to their 25th Anniversary.  It is a favorite coffee of many, known for its spicy, bold flavor notes which come from the Aged Sumatra component of this blend.  It's always a dark roast.
On Monday the 10th, I went to a coffee tasting at the Olive Way Starbucks, to explore a great pairing, and explore this year's blend.  Starbucks Coffee Master Jess conducted the event.  Here we are at the very beginning, and she is just getting set up: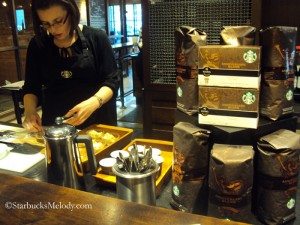 First thing we did, as with every coffee tasting, is smell the coffee.  This year's blend is quite herbal both in smell and flavor.  One customer thought that coffee smelled like "cedar" wood!  The second step is to "locate" where the flavors connect in the mouth.  For me, I noticed this all across the front half of my mouth.  The flavor has a big punch this year, and lingers a bit too.  It's a big coffee!  True bold coffee fans will love it.
We paired the Anniversary Blend with the Starbucks Truffle Mac and Cheese from the Evenings food menu.  This really accentuated the creamy side of the coffee.  I thought the pairing also nicely balanced the bite that this coffee has, mellowing it out.  Here's what the pairing looks like: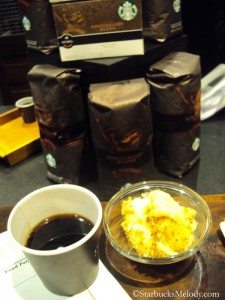 One interesting this is that this coffee has such a complex flavor that it is true that many different things might pair very well with it.  There was a barista in attendance (from a different store) who commented that she thought that the cinnamon chip scone was a great pairing with this coffee.  Another interesting thing about this coffee tasting is that we tried it as a drip-brewed (Bunn brewed) coffee.
Should you try this coffee? Definitely yes, if you like bolder blends.  For the first time ever, it is also available in the K-Cup format.
I didn't take a lot of pictures during this event.  I wish I had taken more!  But before the whole started, I stood in the lobby and snapped a quick photo on my phone in the direction of the coffee tasting/bar area of the store.  It is indeed a beautiful store.  Just take a look: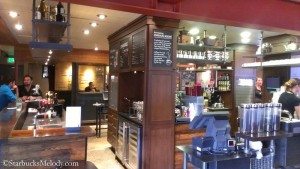 You can also buy Anniversary Blend at StarbucksStore.com.  Just browse the coffee section and you'll easily find it.  Here is what you're looking for:
I've written about many coffee tastings on this blog.  I urge that you browse the whole category of them.  You can see a lot of variation in the kinds of coffee events and pairings, and it's great fun to scroll through them:
It really has been a long time since I had an "open thread" so feel free to talk about anything Starbucks-related in this thread.  As always, I love reading your comments. By the way, just because I don't reply to every comment, doesn't mean I don't love the comments.  I do love your comments!
Related posts