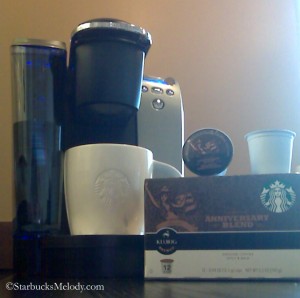 This year, Starbucks will be launching Anniversary Blend K-Cups® into their lineup. They will be available on September 4, 2012.   The whole K-Cup line up is fairly new for Starbucks, and was first introduced about one year ago.  For those who do not know, K-Cups are designed for use in a Keurig coffee maker.  I think this will be good news for Keurig coffee maker enthusiasts.  As for myself, honestly, I am ambivalent.  I don't own a Keurig machine, so there's almost nothing I can say about the cup of coffee produced by it.  The pour over brew method still seems to me like the easiest thing in the world for a great cup of coffee.  But I really would imagine that K-Cups fan will think this is good news!
I must have some readers who own a Keurig coffee maker!  I noticed that Starbucks has a promo right now offering a $5.00 Starbucks gift card when you buy multiple packs of K-Cups in one transaction.  Take a look at this:  Starbucks K-Cup Promotion ending September 30, 2012.  Notice that you can also enter a giveaway for a year's supply of Starbucks® K-Cup® packs.
Are there any Keurig fans reading this? What do you think of Anniversary Blend as a K-Cup offering?  (I'm tempted to say that Anniversary Blend would make a great Via but that's a little bit sacrilegious.)
Related posts
Socialize

Subscribe
Join the StarbucksMelody.com mailing list to receive a weekly email with new posts.