Flashback: 1996 at Starbucks – 25th Anniversary
Melody, September 14, 2012
5
1 min

read
In 1996, Starbucks celebrated their 25th Anniversary with a really fun campaign with a flashback to 1971, the year it all began.  Starbucks baristas wore brightly tie-dyed t-shirts with lots of purples and oranges in them, and they wore buttons that were a Starbucks play on common expressions of the 1970s.  For example, "Foxy Lady!" became "Foxy Latte!"  (Remember the Jimi Hendrix song "Foxy Lady" which was popular through much of the 1970s?)
Here's the big in-store promo sign from 1996.  I suspect that many of my readers have never seen this: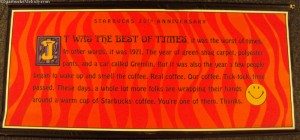 Be sure to click on the image to make it bigger.  Here's the corner of it, showing the year: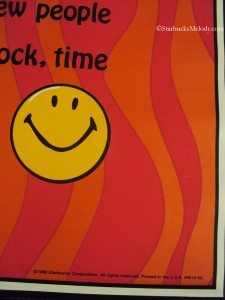 A few years ago, Starbucks produced a short video for Anniversary Blend coffee, explaining their 25th anniversary celebrations.  It's worth a short watch, and you can see how this in-store marketing signage ties in with the tie-dyed shirts, and theme of flashing back to 1971.
That's it for your flashback to Starbucks of 1996.  Hope you enjoyed your Starbucks history lesson.
In other news, I am working on putting together and posting winners from the iPhone case giveaway.  I hope to have a short blog post up on that some time today.  Keep checking back.
Related posts