Starbucks announces big changes to My Starbucks Rewards.
Melody, September 18, 2012
9 min

read
Today, Starbucks announced big changes to their Starbucks Card program, known as MyStarbucksRewards.  The new changes go into effect on October 16, 2012.  Here's the new Rewards program at a glance: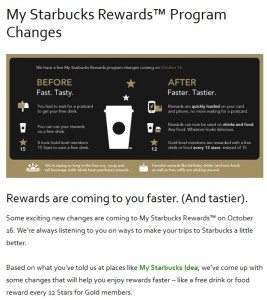 Here is the link describing the new My Starbucks Rewards perks when you pay using your registered Starbucks Card:
Some of the big changes are that customers will be able to select food as their "reward" and the free reward cards will be earned faster – it now takes 12 stars rather than 15 to earn a Starbucks reward!  Welcome to your "lucky dozen," as I've heard it called.  That's a catchy phrase!  Right off the bat, I will say that I am happy to have the increased flexibility of being able to select a food item as a reward – and this includes a bistro box or a panani!
I. Brief Starbucks Card History: (Skip this part if you don't like history lessons!)
Just briefly, a little history of the Starbucks card:  In November 2001, the very first Starbucks card was launched.  On September 17, 2002, a decade ago, Starbucks enabled the card to have the ability to have automatic reloads.
The first rewards of any kind were launched in April 2008, having been announced by Howard Schultz at the annual meeting of shareholders in March 2008.  They were part of the "transformation agenda" announced by Howard during that March 2008 meeting.  The first generation of Starbucks rewards had no "levels" – You just registered a card and earned free soy milk, free breve milk, free syrups, a free tall beverage with a pound of beans, and free refills.
In November 2008, Starbucks launched a gold card where customers paid a $25 annual fee, and got 10% off his or her purchases.  Keep in mind, by the end of 2008, and through most of 2009, Starbucks offered two side by side programs.  The free program earned free soy and breve milk, free syrups, free refills and a free tall beverage when buying a pound of beans.  There were no "levels" to the free program – all you did was register a card and use it to pay for your purchases.  The 10% off program (which had a $25 annual fee) did not include the free milk changes, free syrups, and all the free perks.  The 10% off card was phased out, one year after its initial launch.
During 2009, Starbucks quickly discovered that having two non-overlapping rewards programs really didn't work.   In October 2009, Starbucks announced the current version of MyStarbucksRewards, which offered three levels of rewards:  A "Welcome" level, a "Green" level, and a "Gold" level.  This three level version of MyStarbucksRewards went into effect in January 2010.  The new MyStarbucksRewards launching on October 16th is the first major overhaul of the program since its January 2010 launch.
In April 2012, Starbucks started testing digital rewards in Pittsburgh, Pennsylvania.
By the way, the previous free program where you registered a card and earned free soy and free syrups, and free tall beverage with a pound of beans was rolled into the "Green" level of benefits.
II. Discussion of New Rewards:
At a glance, here's what the reward changes look like:  (This is my own quick chart!)
| | | |
| --- | --- | --- |
|   | Before 10/16/2012 (Jan 2010 to 10/16/12) – "Sweet 16" | After: "Lucky Dozen" beginning 10/16 |
| Free soy milk or breve milk at the "Green" level of rewards | Yes | No |
| Free food (pastries, bistro boxes, paninis, and the popcorn) | No | Yes |
| Electronic delivery of rewards | No | Yes |
| Free Tall Beverage when buying a pound of beans | Yes | No |
| Free syrups – Vanilla, Raspberry, Hazelnut, and standard syrups | Yes | No |
| Free Refills | Yes | Yes |
| Free Birthday Beverage | Yes | Yes |
I think lots of people are asking questions about these reward changes.  Here's what I know … I hope I got this right.  This is new to me too!  I do think that what I wrote below is correct.
Why are rewards going digital?  Can I still receive a paper coupon in the mail?
Everyone will receive perks electronically.  Starbucks was spending about a million dollars a month on mailing out free drink coupons.  The paper rewards model just wasn't a sustainable model.  A million a month was a lot of money.  It was expensive, and it used a lot of paper.  It wasn't "green" at all.
Is there any food that is excluded from the free food perk with my "Lucky Dozen" coupon?
As I understand it, all of the "Evenings" Starbucks food is NOT included, and is not eligible as a reward.  Also, ready-to-drink beverages, such as the Evolution Fresh juices, are not eligible, as I understand it.  A customer can grab a wide variety of food items – breakfast wraps, paninis, pastries, bistro boxes, bags of popcorn – all kinds of food items!
Can I bank my reward coupon and use it when I want to?
When you want to use a reward coupon, let the register barista know you have a reward to use.  Your reward coupons do not automatically kick-in every 12 stars.  It will appear electronically, but you should let the barista at the register know that you want to use it.  This gives customer an added flexibility to use it on the beverage or food item of his or her choosing.
How will I know when I have a "lucky dozen" coupon to use?
You'll get an email notifying you that you've received a free beverage/food coupon.
Will I be able to check my rewards, much like I can currently check my balance in the stores?
I inquired with Starbucks whether there will be a new functionality to the card of "check my reward coupons."  I imagine this new functionality as something akin to the current ability of a barista to swipe a registered card and tell the customer his or her balance.  For customers who are very high users of the rewards, this seems like it would be a help in keeping track of rewards.
As I understand it, Starbucks is looking into this functionality, though it is not currently operational.
Why did Starbucks take away free soy milk (and free syrups) as an option?
I have actually heard baristas say that Starbucks got rid of free soy milk because it was just too expensive of a perk.  I strongly do not think that is true.
About 25% of transactions at the register involve a registered Starbucks card.  Out of those transactions involving a registered card, about 5% of them involve a free modifier such as free soy milk, free breve milk, or a free syrup.  I am sure that there are some stores where it feels like a much higher average, but on the whole, it's only about 5% of the registered transactions.
I think that as Starbucks re-evaluated their rewards programs, they found that it was cost-neutral to remove the free soy milk (and free syrups) option and then offer faster rewards with greater flexibility.  In other words, the new version of the rewards will reach a much larger customer base.  Those of us who do not use soy milk and syrups didn't see that as the most useful benefit – and the numbers bear it out – only a small group of customers really used the free modifications.
III.  Melody's Perspective:
If I haven't been clear up to this point, I resoundingly like these changes!  I know that I've spent so long talking about the history of the rewards and the fine details, that it might not be obvious that I like these changes!
I can recall back in 2009, saying to myself, "After a while, to the heavy user, a free drink coupon is going to lose its surprise and delight … Oh yay, yet another free drink…"  Early on, I saw the need for some variety in the Starbucks card rewards.  Variety is the spice of life!
I definitely think that the added flexibility on how a customer can use his or her reward is, well, FABULOUS!  I enjoy a few of the paninis, as well as some of the bistro boxes, especially the goat cheese bistro box.  And my drink beverages are not really all that customized.  Flexibility is a win win for me!
I like the overall simplification of the rewards.  I think that it is possible that this new version of the rewards program will be easier for a barista to understand and explain.  By the way, it is still true that a customer can use any card as his or her "gold" card, and is not tied to using the shiny gold card.
Only time will tell where the ambiguous and confusing moments are for this new program.  The free refills aspect to the My Starbucks Rewards remains unchanged.
And I like being able to get my rewards faster.  Once in a while, I handed a free beverage coupon to a friend, and I'll miss that flexibility, but I like the idea of never having my rewards lost in the mail.
I understand that for the fans of soy milk and free syrups, it might feel like a sting, but I think over time people will readjust to the new "lucky dozen" Starbucks rewards.  (As a reminder, a customer can save ten cents on his or her beverage by bringing in his or her own cup, mug, or tumbler.)
Now it is your turn to weigh in.  I know this blog article is long and won't quite look like some of the other articles in the news.   Full disclosure: On Friday, September 7, 2012, I was able to ask a few questions of the Starbucks Sr. VP of Store Operations (Ms. Rossann Williams) about the changing My Starbucks Rewards.  I didn't receive anything at all – it was just a conversation where I got to ask questions about the My Starbucks Rewards.  By the 5th of September I knew about the rewards revamp, and was glad to have a chance to ask a few direct questions.  A big thank you and shout out to Linda Mills who made that happen.  Thank you!
What do you think?
Related posts
234 Comments
Comments are closed.