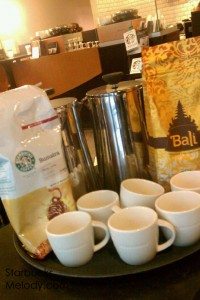 Thanks to a twitter friend in Amsterdam, I received a bag of Starbucks Bali Blend in the mail!  This is a limited promotional coffee, and it  is available only in select international markets.  It is not available in North America.  I have been eager to try it.  In 2009, Starbucks briefly offered a small-batch Clover coffee called "Bali Batur Highlands," and I remember that I liked it a lot.
I walked to my neighborhood Starbucks at 7th and Pike at about 8:30 this morning with my bag of Bali Blend, hoping to try it with the real experts.  By the way, today's mini coffee tasting was totally unplanned and as impromptu as it can possibly get.  I didn't know who would be working or whether they would be busy.  I saw Nitza and Ashley behind the counter, and a new partner (named Simon) whom I don't know very well.  There was another partner whom I've met many times and I absolutely should know his name, but I always forget it  (I am sorry!).   The store manager, Adam, also joined us.  He had been sitting in the back doing office work, but gladly came out to join in a coffee tasting.
I showed Nitza the Bali Blend, and told her I wanted to do a coffee tasting, and she enthusiastically said, "yes!"   We briefly talked about what kind of tasting, and quickly decided upon two presses of coffee.  I was pretty amazed that Nitza was already familiar with this Bali Blend coffee.  Coincidentally, one of the store partners had just come back  from a vacation to the UK, bringing home a bag of this coffee.  Nitza said that just a few days before she had been trying to figure out the best setting on the Clover for Bali Blend, and wasn't sure that the Clover would be the best way to do a coffee tasting.
We compared Starbucks core coffee Sumatra with the Bali Blend in a classic "taste and compare" style of coffee education.  A "taste and compare" coffee tasting is exactly as it sounds.  It is two or three coffees in a French press, and it's a real analysis of the origin flavors, and usually it is NOT paired with food.  The "taste and compare" style of coffee tasting is really be able to look at one coffee against another so that there is always a basis of comparison.  If there is food, it's reserved until after the tasting is all done.
Just as a quick review of previous articles with a variety of coffee tasting ideas:
(1)  "Taste and compare" style coffee tasting:
(2) Food pairing coffee tasting – Learning about how food changes the way coffee tastes:
(3) A coffee cupping – Learning about coffee to compare flavors, and check quality – Cuppings are part of a coffee roaster's process to create perfect coffees:
I really do not want to sound like I am the last word in coffee tastings or coffee education.  I am definitely not.  In my own personal experience (through a Starbucks education), what I have learned is that different kinds of coffee tastings all have different goals, and it is certainly not to say that one kind is better or more important than another.
Nitza made two French presses: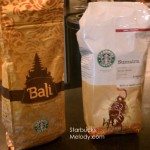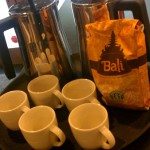 Store manager Adam took a minute to check out what the Bali Blend beans look like: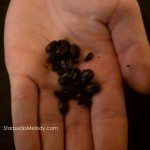 Nitza poured coffee in all our small tasting cups: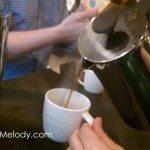 And then we got to work describing the coffees and comparing them.  Nitza commented that she liked the Bali Blend much better in a press than from the Clover.  She said that there had been spicy notes highlighted by the Clover, but in a press it was much sweeter.  The Sumatra brought out descriptions like "toasted cocoa nibs" and Adam commented that it tasted like "toasted marshmallows."  I noticed that the Sumatra was much heavier in the mouth than the Bali Blend.  I loved the Bali Blend.  In fact, every single partner there loved it.  Adam, who has been a partner for years and years, commented that it reminded him of what he remembered Arabian Mocha Java to be like, back when that was a core Starbucks coffee.  The Bali Blend was full of origin flavor, and seemed to have a lighter roast profile than Sumatra. Both were delicious, but honestly, I wish I had like twenty bags of Bali Blend, not one. Love it.
I felt like I got to have a bit of a real international coffee tasting.  Shortly after I walked out of 7th and Pike, I tweeted about the coffee tasting and got this immediate reply from Laurence Winch, Starbucks Coffee Ambassador for the UK:
@SbuxMel Good tasting to do. Two Indonesian coffees – one washed, the other semi washed. Both delicious coffees with v diff characteristics
That's all there is to it.  Coffee.  Passports. About fifteen to twenty minutes at most with two coffees.  Hope you enjoyed this.
By the way, I found this description of Bali coffee on the Starbucks Australia website: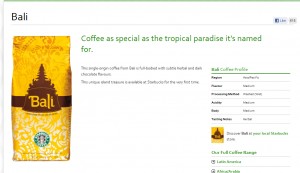 Related posts