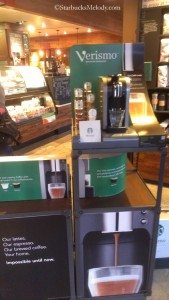 Today is a big Starbucks day!  The new Verismo machine by Starbucks launches, and all the new MyStarbucksRewards start today.  For those who don't recall, about a month ago Starbucks announced a major changes to their loyalty rewards program known as MyStarbucksRewards.  As of today, (October 16, 2012) customers earn a free drink (or free food item with limited exclusions) every 12 stars.  Soy milk and syrups are no longer free.  And rewards go 100% digital today – no more postcards in the mail.  Those are the major changes, though for all the details, check the official website.
A large number of Starbucks stores begin selling the Verismo machine today.  This is an ultra-simplified way to be able to make a latte, cup of coffee, shot of espresso, or an Americano at home.  The entry level machine is priced at $199.00.  There are only three buttons for three different functions: The top button is for a shot of espresso.  The middle button is for a cup of brewed coffee.  And the third is for milk.  You simply drop in an espresso pod, a milk pod, or coffee pod, depending on what it is you want.
Here's the machine making a cup of Verona.  You can see the middle button is lit up: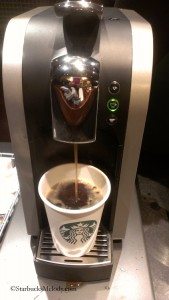 Today (October 15, 2012), I caught the tail-end of an in-store demonstration of the machine at the Olive Way Starbucks here in Seattle.  Today really was the first time that I got to experience this new machine.  So here's my review of what I tried:
The latte:
It takes just a couple of quick steps to make a latte.  You just use one milk pod, and one espresso pod, and in what seemed like less than one minute, you've got a latte.  I was pleasantly surprised with this.  I was suspicious that the milk would taste odd, but the milk pod really does make a very nice steamed milk.  I liked the temperature quite a bit also.  It was definitely a hot latte, but not too hot.  The milk pod and the espresso pod pair together very nicely – of course they do, that's a latte!  This was two thumbs up.
The thing that I'd be very tempted to try is combining the steamed milk pod with a packet of Pumpkin Spice Via Ready Brew.  I have a feeling that would be delicious.
I can see that there is something to the idea of having an incredibly easy way to produce a nice cup of milk at home – whether to combine with your favorite chocolate sauce, or what have you.  Just taking a cup of milk and throwing it in the microwave won't produce this.  For Chai Latte drinkers, I would think this would be an incredibly easy way to make a Chai Latte at home.  Starbucks sells their Chai mix, and you just pour a little bit of that with your steamed milk, and I bet you have something delicious and very fast.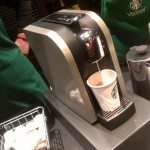 The solo shot of espresso:
I drank a solo shot of espresso too.  This was interesting.  It was good.  Was it great?  I'm not too sure about that.  Here's my espresso shot:
It wasn't quite as caramelly and sweet as I wanted.  I am puzzled because I have no idea what gets lost in the translation between this brew method and the store.  It IS good, but a nice freshly-pulled espresso shot from the Mastrena at Starbucks is better.  Before I left Olive Way, I ordered a solo shot in a demitasse cup, just to refresh my memory of what that is like.  The Starbucks espresso shot is better.  My solo shot was truly perfect.
I inquired with the barista at the Mastrena, asking if he'd done anything special to my shot.  The bar barista was "Josh" and it turns out he's a fairly new partner.  We'd never met before.  I could tell he was puzzled when I was pressing him for details about my shot.  He looked at me funny and said that he'd 'pressed the button and made it with love.'   I kid you not.  As a new partner, he's already got Starbucks down pat.
My review – one thumb up, one thumb down.  If only it were just a tad bit caramelly-ier.  (Sorry, not really sure if that's a real word, but you know what I mean.)
By the way, I noticed in the booklet brochure about the machine that you can buy Guatemala Antigua as an espresso pod at other retailers and/or at StarbucksStore.com.  I have to wonder if that produces a nicer shot of espresso!  I doubt I will ever know.  Those pods aren't in the Starbucks stores, and unless Santa Claus is super generous, I doubt I'll get a Verismo for Christmas.
The cup of brewed coffee:
Last but not least, I tried Verona brewed coffee from the Verismo: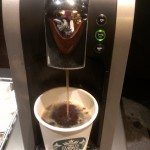 One can get Pike Place Roast, Caffe Verona, House Blend, or Veranda Blend as coffee pods.  I'm quite a closet fan of House Blend too.  I still buy Starbucks House Blend now and then at the stores.  And of course, I love Verona.  The cup of coffee was quite good.  It was nice size cup of coffee – I normally only order a short brewed coffee.  And it was delicious.  There really can't be an easier way to make brewed coffee.
Two thumbs up for brewed coffee.
******
This is an open thread.  Feel free to weigh in on the Verismo home brewing machine.  I know that some of my readers have already got one (or will have one shortly).  Or, feel free to weigh in on anything Starbucks-related.  As mentioned earlier, today is the big day for the new rewards launch too.
Related posts