Memorable merchandise moments in Starbucks history: Paper clips
Melody, January 12, 2011
42
2 min

read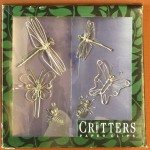 Another round of interesting Starbucks history at StarbucksMelody.com:  In the 1990s, Starbucks tried selling a variety of things in their stores.  Sometimes I think that is what made it so fun.  The customer was always going to be surprised at what they might find for sale in their local store.  These Starbucks "Critters" paperclips are up there high on the list of the odd and the unusual that have been sold in Starbucks.  These were available sometime between about 1993 and 1998.  Recently, I was visiting the home of a former SSC partner who told me that she worked at Starbucks roughly between about 1993 and 1998, and she was finally getting rid of all kinds of Starbucks things that she had been toting around for nearly a decade.  I gladly took a few items off her hands.  Thank you former partner!  Every item that I bought from her was sold inside stores during the time frame that she worked there, so that is how I am able to date these paperclips to that era.  The price tag sticker on the backside of the box lists the website starbucks.com which was a brand new webpage in about 1998.  I assume these paper clips were sold in about 1998.
I asked the former partner what the intent was behind selling Starbucks branded paperclips.  She stated to me that they were the kind of item that one might buy spontaneously if a child needed a gift for a teacher, or an office person needed a gift for a colleague.  Very clever indeed!
Though many people think there is currently a lot of merchandise inside Starbucks, I tend to see modern Starbucks stores as really bare and empty of merchandise.  You can't find a grinder or filters, and Starbucks simply doesn't try to sell odd items like they used to.  In a previous blog post I mentioned the Starbucks blender that was for sale in about 2003.  While I understand that it's not practical to have wares sitting on shelves, it seems like Starbucks has swung the pendulum very far away from selling merchandise, and that now there is room to branch out and try new merchandise in the stores.  What would you want to see sold?
A picture is worth a thousand words.  Here are a few more photos of the paperclips:  (Thank you Molly at Seattle Custom Framing for helping out with the photos.)
Related posts