Nordstrom is now selling Starbucks-inspired designer t-shirts.
Melody, September 25, 2011
36
4 min

read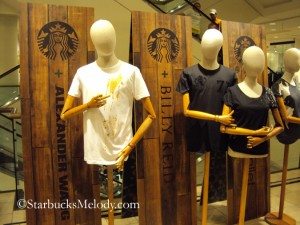 Starbucks has partnered with "CFDA/ Vogue Fashion Fund" and Nordstrom to create Starbucks-inspired t-shirts.  The shirts are available online and at  select Nordstrom locations.  There is an official blog post about this here:
From the My Starbucks Idea blogs: Starbucks Designer Tees.
I decided to drop by my local Nordstrom on Pine Street in downtown Seattle, and get a close look at the t-shirts and the displays.  If you're looking for the shirts, they are in the via C department at Nordstrom.  (A very helpful sales associate at Nordstrom, with a major in journalism so I learned, made sure that I knew that the department is "via C" and not "Via C.")
The display and correct department were not hard to find at all.  There is a large display right near the escalators showing off these t-shirts.  By the way, the three t-shirt designers were Sophie Theallet, Billy Reid, and Alexander Wang.  It appeared to me that the solid white shirt by Alexander Wang, and the black shirt that has "71" on it (by Billy Reid) were styled and cut as men's shirts.  The Sophie Theallet shirt  and that the other black Billy Reid shirt (the one with the Starbucks siren on the left shoulder) appeared to be women's shirts.  Of course, I recognize that t-shirts are t-shirts, and anyone can buy any one of the four they like!
The t-shirt that appealed to me the most was the black Billy Reid shirt with the siren on the shoulder: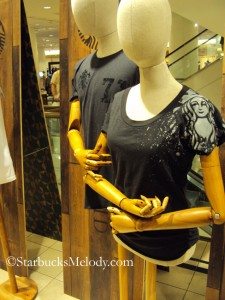 I tried the black Billy Reid t-shirt on, and it seems to run just a bit small.  Nordstrom did not have my size available in store (they seemed to have just a handful of shirts) and so I ended up ordering the t-shirt with the assistance of the sales associate.  She was incredibly helpful, and even waived the shipping fee for me.
Here's another photo of the display: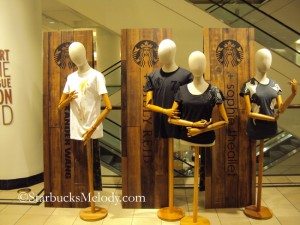 I also thought the Sophie Theallet shirt was nice, and the tie on the back of it was a nice feminine touch.  Each shirt has a small rectangular booklet-tag which provides just a brief introduction to the designer:
Also, each little booklet has a free drink coupon in it!  (I wonder if any partners have seen those used in the stores yet?)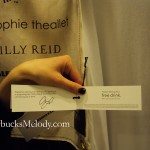 I have to be brutally honest here:  I think the price tag is a little steep for these t-shirts.  I recognized that these are designer shirts, and placed in a Nordstrom department where the typical via C customer would be accustom to spending a few hundred on a single sweater, or pair of pants, but for my budget, this was a touch expensive.  In looking around at other items in the same area of Nordstrom, the t-shirts were priced at the same scale as all the other beautiful high-style designer merchandise in via C.  Still, $85 is more than I would normally spend for a t-shirt.  And I totally recognize that there IS a whole category of folks who will spend that for designer wear, but it's a bit much for me.
In addition, this blog post has a boring legal section to it too!  I received one of these t-shirts already as a gift from someone at the headquarters.  I think that the Federal Trade Commission requires me to disclose any products or services in connection with a blog article.  I received a free t-shirt.   Technically, I think the intent of the FTC is that the requirement is disclosure of "compensated endorsements" and I didn't really review the shirt that was given to me, and I did not do a "product review" at the behest of Starbucks, but just to be safe, I'm disclosing that I received a free Alexander Wang shirt.  In any case, I've probably just caused someone at the SSC to wince a little by referring to the shirts as expensive.  They are beautiful shirts though!
So what do you think?  Have you seen these shirts at your local Nordstrom?
Related posts