Starbucks partners volunteer at the Houston Food Bank
Melody, October 20, 2012
7
3 min

read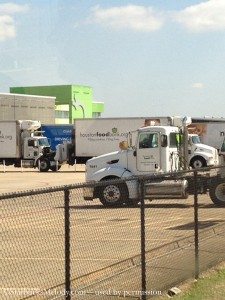 In October this year, thousands of Starbucks partners (Starbucks calls their employees "partners") flew to Houston, Texas for a global leadership conference.  What an amazing thing.  During that time, my twitter stream lit up with the #sglc12 hashtag, and many inspiring photos and stories.
One partner and I had the chance to sit down and talk really about her volunteering experience.  I was moved.  As many readers know, feeding the hungry is a dear issue to me.  In Houston, like in many cities across the country, people go hungry.  This partner told me that she went with thousands of others to the Houston Food Bank and packed up small bags of food.  I inquired further about the bags of food.  Starbucks partners worked putting together plastic bags that contained things like a couple cans of refried beans,a box of mac and cheese,  juice boxes, a can of soup, and other food items.  She said that the "Backpack Buddy" bags of food would be passed out to elementary school age children.  Children in the Houston school system are encouraged not to miss a day of school, and on Fridays, needy children who have attended all week are given a large bag of food (about two to three pounds) which is placed in the child's backpack.  The child then carries the bag of food home.  This often is the children's food for the weekend – parents use the food to prepare meals for the family when no school lunches are accessible.  For some children, their school lunch is their main meal.
I am reminded again that hunger in this country is real.  People still go hungry and we can help.  For those of you who are interested in this topic, I have a whole category about Food Lifeline, a hunger relief organization in Washington State, where I've done some volunteering.
During the #sglc12 tweets, the Houston Food Bank sent out this tweet which I thoroughly enjoyed.  I am easily inspired by the passion of others:
I'm also reminded how 'many hands make light work' and the power of many to get work done is incredible.  I heard a little more about the volunteering that Starbucks partners did, and I wanted to pass along this inspiring (Cliff Burrows) email excerpt:
There was no better way to demonstrate using our scale for good and leading through the lens of humanity than to make a difference in the Houston community that is home to 236 of our stores. Working together with the Fifth Ward Community Redevelopment Corporation, Houston Food Bank, Volunteer Houston and AMMA in three days, we packaged hundreds of thousands of nutritious meals, assembled hygiene kits, painted murals, mosaics and garden signs, renovated a school, painted multiple homes, created urban gardens, built a playground and held workforce development workshops. Together, we volunteered more than 42,000 hours of service and positively impacted some of the city's most underserved communities.
By the way, now is a good time to mention that there is a Starbucks community service website which both customers and partners can access:  Starbucks community service page.  I don't expect this article to receive a lot of comments, but I still thought it was absolutely important to share.  If you've volunteered at meal programs, or food banks, I'd love to hear your stories too.
Related posts