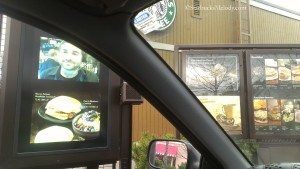 Video ordering at the Starbucks drive thru is here.  Starbucks has been working on refining and expanding their video technology, and now has implemented it in a number of their drive thru stores.  From what I hear, there are several Washington State Starbucks that have the video ordering technology, as well as an area in Nevada also testing the video ordering.
One location with the video ordering is the Burien drive thru store at 15838 – 1st Avenue South, in Burien.  It's Starbucks store number 3217.  Before I go any further, I will mention that my normal mode of transportation to a Starbucks is on foot, or sometimes bus.  At the moment, I have no car.   So as it is, the drive thru feels extremely foreign to me.  I loved the ability to see the person taking my order.  It made the whole experience so much friendlier and personable.
I persuaded a good friend that we needed to take an excursion to Burien, Washington, and so from the passenger seat, I had the good fun of seeing face to face video ordering technology in action.  I took a few pictures with my phone.  I would love to know what you think!
I categorized this article under the test products category.  You can browse through and see everything from test salads, new beverages such as the marshmallow mocha, or read about the previous Peach Iced Green Tea Lemonade test.
Related posts