Tazo Tea Store Revisited. (Scroll down for the giveaway)
Melody, December 30, 2012
73
5 min

read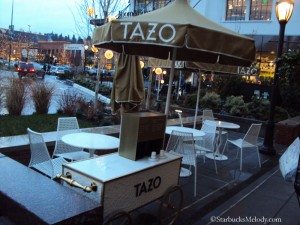 Last month, the first Tazo Tea store (operated by Starbucks) opened.  It's been almost two months since I've been back to the Tazo store, so I decided I was overdue to check out what's new.  On top of that, when I did the Tazo Tea Card (which of course can be used at any Starbucks and registered online to Starbucks.com/card) giveaway, I discovered that it was one of my most popular giveaways ever.  Lots of people wanted a Tazo card!
When I walked into the Tazo store today (December 29, 2012), I was immediately greeted by Cody, who remembered me from my last visit in.  In my first article abut the Tazo Tea store, he was the Tazo partner making my sparking iced tea.  He joked that he was disappointed that I'd only featured his hands in my last article.  He is such a nice guy!  I explained to him that I needed a few gift cards for another Tazo Tea card giveaway.  As he was getting my three cards, I snapped a very quick photo of him in action: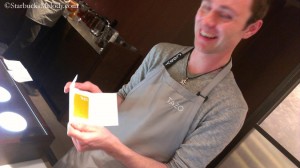 This store is chocked full of merchandise.  I just want to look at every little thing, and smell all the teas, despite that I'd much rather having coffee over tea.  I went around taking a ton of pictures of what's for sale.  There were coasters, spoons, tea sets, kettles, flavor-infused sugars, bottles of green tea oil, and much more.  And of course, there were a million teas.  As to the food, the white chocolate and chai chocolate bar is still one of my favorites.  I decided to try the savory Madeleines on this trip in.  That was an interesting experience. I'm not sure that a Madeleine cookie is meant to be savory.  I really did want to like them a lot.  There were two savory Madeleine flavors: Lemon Chive and a Tomato herbal one.  (I don't recall the exact name of the tomato flavored one).  The lemon and chive was the better of the two.  I'm sorry but these were odd, and didn't fit in with all the other Tazo tea goodness.  So here are merchandise photos – be sure to click onto the thumbnail image to make it larger:
The problem is that I would need like 20 or 30 pictures to really take you on a virtual shopping trip in this store.
I saw something very cool happening while I was there.  James, a tea master in the store, was leading a tea tasting and cupping at the community table.  It started shortly after I arrived.  I asked the manager about it.  The store manager explained to me that earlier in the week a woman dropped by the store and asked if she experience a tea tasting for her and her whole family – the customer explained that her family was in town for the holidays, so it was a large group.  The store manager absolutely said 'yes' and made the time for James to sit down and walk the large family through a tea tasting.  That is so cool.  That is what I call customers connecting with a store.  I walked near the tasting and grabbed my bag, and I overheard James explaining to the family that Tazo was started by Steve Smith many years ago, and then bought later by Starbucks.  It was quite clear that the family didn't realize that Tazo was in the Starbucks family of brands.  Everything about it struck me as so cool.  I don't know if others get so excited about this like I do, but I love coffee and tea education.   Here's the group at a distance: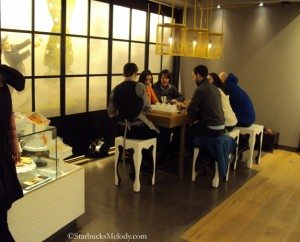 ********** TAZO TEA CARD GIVEAWAY **********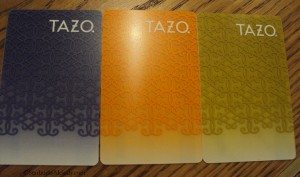 I am certain that all my readers know that a person can use a Tazo Tea card at any Starbucks store, any Evolution Fresh store, and the Tazo store.  You earn a star for each transaction at Evolution Fresh and Tazo.  The Tazo card can be registered to your Starbucks.com/card profile, and can be reloaded and used exactly like any Starbucks card.  This makes it a very unique Starbucks card! 😉
I bought three Tazo cards (one of each color) and each one is loaded with $15.00 on it.  There will be three winners.  As usual, your odds of winning depend upon the number of entries received.  You must leave a comment in this article (not an email reply to me) to be counted.  You must be over age 18.  You must post your comment and entry before January 5, 2013, at 11:00 p.m. PST.  I'll ship the card anywhere – if you're outside of the United States, that's fine too.  You must share something of mine somewhere.  You can tweet any StarbucksMelody.com article.  You could share any Facebook post on this blog's Facebook page.  You could do a Google+ share of any of my Google+ posts.  You could even share any of the Seattle's Best Melody articles.  Or you could re-pin anything you like from my Pinterest profile.  Or, last but not least, I guess you could just retweet me!  When you enter, be sure to use a real email address so that I can easily reach you if you are a winner.  And please be patient with me in getting the winners posted, and prizes out in the mail.
I really do look forward to your comments on this fun store, or whatever it is you want to comment on.  Do let me know if you've made a share.
And one more time, I want to say a big thank you to the small group of readers (you know who you are!) who have bought me a cup of coffee!
I'd like to wish all of my readers a very happy 2013!  I'll see you next year!
Related posts