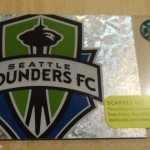 It's been a long time since I've done a giveaway.  If you want to enter this giveaway, you have to follow all of the instructions. I'll delete comments that don't. Please read all the instructions. You must be over eighteen years old. You must have a mailing address within the United States or Canada. You may only enter once. If I receive more than valid entry 200 comments, then no comments after 200 will be counted. The contest ends March 7, 2014 (at 6:00 p.m. PST), or at 200 comments, whichever comes first. There will be only one winner, picked at random by me. I'll put all the names in a hat, and draw out one name. Please enter with a valid email address so that I can easily reach you, should you be selected as the winner. The grand prize is a Sounders Starbucks card pre-loaded with $75 on it. You must share something on this blog: use any form of social media that you like – tweet an article, share via Facebook anything on this blog, pin via Pinterest a photo, use Google+ to share, just for example of means of social media sharing. I am hoping to introduce more people to this little website. I don't have anyway of really tracking who shared what so I'm counting on the honor system. But your comment below must at least include the words "I shared" and include what form of social media.
Your comment (which must appear below) must include ONE single thing that you either would really want to change or not see changed at Starbucks. This is not a rant session. I am asking that you write with specificity. The only means to enter is a comment below. An email to me or a comment appearing on Facebook, or something else is not a valid entry.
Last night, I went to a happy hour with some friends. I saw a guy whom I've known for years and years (he's an attorney in private practice), and he said to me, "Melody, I just love Christmas Blend. If I stock up on it, how do I store it best? Do I put it in the freezer? How long will it be good for? I never know what coffee to buy when I don't have Christmas Blend." I had a moment of realizing that for my friend Matthew, the ONE thing that always keeps him walking back in the door to Starbucks is the Christmas Blend.
And in speaking of the one thing many people would want to change, I hear over and over that people a lemon loaf with icing back! Please limit yourself to ONE single thing that you either want to change or to stay the same and please don't forget the "I shared" information. I know it's hard not to talk to about two or three things that you want to throw out in one comment.
I look forward to reading your comments below. I will not be replying to comments, but I am reading them. I'm deleting comments that don't conform to all the rules above. 🙁 Edit: If your comment is not appearing below, it didn't follow all of the above rules. I made this a little hard because it is a $75 Starbucks card. Most people are getting tripped up because they want to talk about many things so that feel like they have to write more, like "also…" and start whole new concepts. Also many people are forgetting the "I shared" part. If your comment does not appear below, re-try. Before you submit, double check to see that you included just one topic, and you've got the "I shared" language in there. 🙂 Good luck to everyone!
Related posts