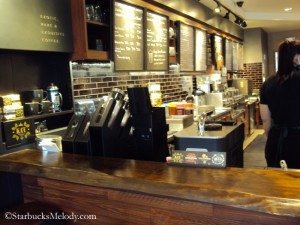 I recently dropped by the Clover Starbucks in West Seattle.  As many know, I'm on a quest to write about as many Clover Starbucks locations as possible.  About a month ago, Seattle launched "Rapid Ride" busses, and I realized that getting to West Seattle was suddenly very easy.  Early morning Thursday the 25th of October, I strolled into downtown Seattle, got on Rapid Ride C, and moments later was at this Starbucks.  There is a Rapid Ride stop right at the corner of Fauntleroy and California Avenue SW, it was truly quick and easy to get there.
Here's the store's address:
Starbucks store 3202
California & Fauntleroy
6501 California Avenue SW
Seattle, WA
(206) 938 6371
As I understand it, this store has had their Clover brewer about six months, and it is the first Starbucks in West Seattle to have a Clover.  The day that I picked to drop by, contractors were working on re-bricking part of the exterior of the building, so some of my photos show one wall under construction.  That wasn't great timing on my part, but I had no idea that a re-bricking project was underway.
I arrived fairly early, hoping that the store would be slow.  As many know, I attempt to feature the store and less so any customers in it.  When I arrived at about 7:30 a.m., the store was slow, but actually as I remained, the store picked up and got busier and busier.
I quickly met the store manager, Barton.  What a nice guy!  He was cleaning in the lobby right when I walked in the door.  I introduced myself.  He remembered me, and insisted that we met at the Starbucks marquee community service event in April 2011.  I am embarrassed to say that I don't recall that.  Furthermore, he stated that reads my blog about once a week, and had recently read the article about the Starbucks photography policy.
I learned that Bart has been a partner (Starbucks calls their employees, "partners.") for about 7 years.  He loves having a Clover store.  And we both admired the very large wall-sized photo of Washington's Olympic Mountain Range.  It makes sense that this store would have a photo like that.  You could walk a few short blocks from this Starbucks to the Fauntleroy to Vashon ferry, and really have a splendid view of the Olympics.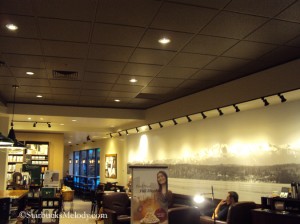 You can kind of see the wall photo in this above picture.
The store has plenty of comfy seating.  Mostly it was in use while I was there, so I didn't take photos of it.  One quirky thing about this store is that it has automatic opening doors.  I just haven't seen very many Starbucks store with auto opening front doors, like in a grocery store.  Also, this store has a back door entrance.  It has a tiny covered patio/ alcove area adjacent to the back door.  That is very interesting!  I bet this is a popular place to sit in the summer: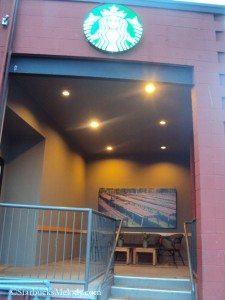 I ordered a Sun Dried Sumatra from the Clover, and hung out for a little while, playing Words With Friends, browsing the web from my phone, and taking photos.  Everything really worked out perfectly.  Every partner was friendly, and I thoroughly enjoyed meeting Barton.  (He's also incredibly patient – I thought he'd said "Martin" and so for the first half-hour I was in the store, I erroneously called him Martin.  He never got ruffled by this at all.  It was only when I heard one of the store's partner asking him a question that I realized it's Barton, not Martin.)
This store has been here since February 7, 1996!  Sixteen years for this Starbucks! Congrats!
Here are just a few more photos:
Related posts