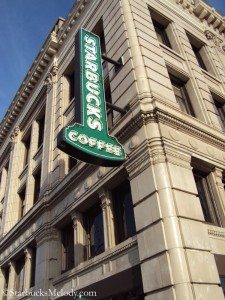 The Starbucks in Ballard, Washington just relaunched and relocated, adding a Clover brewer.  The new location opened on Sunday, April 8, 2012.  For those who don't know, Ballard is one of Seattle's adorable neighborhoods, and not an actual city.  For long-term Seattleites, the building will bring back fond memories of the Italian restaurant, Lombardi's, which sat in that location for 23 years.  In 2010, Lombardi's closed their doors, only to be replaced with another restaurant that seemed to be only fleetingly in that location.  When Lombardi's successor moved out, Starbucks jumped at the location.
Perhaps I should start with a brief history lesson for the Ballard Starbucks.  This Starbucks first opened brand new at 2204 NW Market Street (in Ballard) on July 21, 1989, as one of the very earliest Starbucks in the business.   The location at 2204 was narrow and small, with only limited seating.  So for more than two decades, it sat immediately next to Lombardi's, a true Seattle favorite Italian restaurant.  I remember eating at Lombardi's often in the 1990s! After 23 years of being a neighborhood Starbucks at 2204 NW Market, Starbucks re-opened at their new address:  2200 NW Market Street.
If you want to visit, here's the complete address:
Starbucks store #318
2200 NW Market Street
Seattle, WA 98107
206 – 782 – 2795
The exterior sign on the Starbucks at 2200 NW Market was designed to be reminiscent of the "Bagdad Theatre," which was a nearby movie theater, which operated from 1927 to 1949 at 2218 NW Market Street.  That theater is now long gone, but I like how the current signage calls up memories from that old historical Ballard building.
Back to the Ballard Starbucks.  It is gorgeous.  As I have mentioned in many blog articles, I love the store designs which feature the "live edge" to espresso bar woodworking.  There is plenty of seating, and a number of comfy seats close to the door along the east wall of the lobby.  The comfy seating is not shown below because too many customers were sitting in them during my visit.  The community table is large and spacious, and there is even a children's community table too!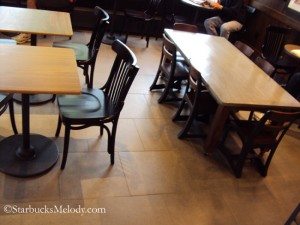 I love that every detail has been well thought out.  The window seating near the Clover area has an abundance of outlets too.  Towards the back of the store, there is a long hallway leading to the restrooms, and I love the fact that the store displays local art along this wall.
Best of all, the store's manager is absolutely fantastic.  There is only one Jen.  I actually knew her long before I even planned on writing this store article, and before she was the manager of this store.  Jen is genuinely very enthusiastic about coffee, and coffee education.  I've met up with her in person at the Olive Way coffee tasting events. I think I've known her for about one year, long before she took over this store.   I'm always impressed when partners go on their own time to learn more about coffee, and the world-class coffee tastings at Olive Way are a great way to do this.  Jen has been a partner for five years, and just recently began managing the Ballard Starbucks.  I really can't say enough good things about her.  I arrived today (April 30, 2012) shortly before 7:00 a.m., and she welcomed me in the store (of course, she immediately knew me) and helped answer my questions about the store's design.  I learned the tidbit about the Bagdad Theatre from her today.  And best of all, as I mentioned, she loves coffee.  It is perfect that she has a Clover store to manage.  Here is the Clover area: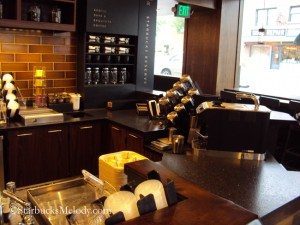 I can't really pick a favorite Clover store because there are so many wonderful stores, but this is indeed at least one of my favorites.  If you're ever in Ballard, you must stop by.
Here are the rest of the photos:
Related posts