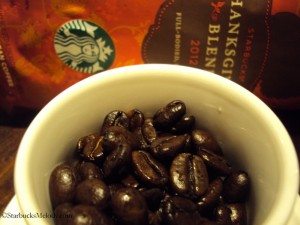 Starbucks Thanksgiving Blend 2012 has landed!  This coffee was first introduced into the Starbucks whole bean lineup on November 4, 2008, which was Election Day that year.  It's a blend of Sumatra and Guatemala Antigua, paired together in perfect proportion, and roasted deeply.  It's pretty amazing how well these two coffees go together.  This blend was created in partnership with the famous chef Tom Douglas, and really designed to work perfectly with a big savory meal.  By the way, I have heard (seriously, on many occasions) partners (Starbucks calls their employees "partners") describe this coffee as having an Aged Sumatra component.  This is false!  There is no Aged Sumatra in Thanksgiving Blend.  It's the wonderful semi-washed Sumatra normally grown and processed on the island of Sumatra.
On Monday the 29th, I went to a coffee tasting at the Olive Way Starbucks, and we paired rosemary cashews and macaroni and cheese (both from the Starbucks Evenings menu) with this coffee.  This year's Thanksgiving Blend did not disappoint.  It works very well with savory foods.
As for aroma notes, one customer at tonight's coffee tasting said that it smelled like clove.  I picked up a lot of spice notes, and several people smelled cocoa.  (I was lost on that one – I never picked up the cocoa aroma or taste.)  The body of this coffee is velvety yet has a clean finish.  I really like this year's Thanksgiving Blend!
So you'll have to experiment for yourself with what you think Thanksgiving Blend goes best with.  You might try turkey, pumpkin pie, stuffing … 😉
This year's Thanksgiving Blend soft launches on November 1, 2012, and should be available at your local stores then.
If you will indulge me, I would like to tell my Thanksgiving Blend story.
It was November 7, 2008, and typical fall weather.  I was checking my personal email at work.  As I sat in my small office, I  noticed that a curious email had just landed in my inbox from the Starbucks Card department.  The title of the email was, "A peek behind the curtains at Starbucks."
It began with these very words:
"Dear Melody, Because you're one of the first members of Starbucks Gold, I'd like to give you a peek inside the Starbucks Support Center…"
My hands began to sweat a little.  What was this?  What does one wear to the Starbucks Support Center?  These were serious questions in my mind.  I guess the attorney in me never just assumes it's okay to wear jeans everywhere.  I would have to figure out someone to ask about that.
I kept reading.  I would have to arrive at the Starbucks Support Center on November  13, 2008, no later than 10:45 a.m.  I learned that a very small number of customers were picked "to experience a live roasting of the new Starbucks Thanksgiving Blend," that had been developed with "Chef Tom Douglas."
As is obvious, I was totally beside myself with both curiosity and excitement.  In 2008, I'd managed to discover the Clover, go to the Shareholders' Meeting in March and hear about the all-new Mastrena, loyalty rewards program, and Clover, and in April, I had gone to the kick off event at Pike Place Market for the all-new Pike Place Roast coffee blend.  Also, during 2008, I had discovered Sorbetto, which I did truly think was a heavenly dessert-like beverage.
And now this.  I had to read the email twice.
In 2008, it felt like Starbucks was a fast moving ship, and dangling by only a few sturdy ropes, I was a skiff along for the ride.  In fact, I even had that feeling of being inadvertently roped by the Siren.  By luck – mostly by my location in downtown Seattle – I was experiencing so much.
I immediately made arrangements to take the time off to go to the November 13th event.  My office was gracious about it.  There was just enough notice to make it work.
As it drew closer to the 13th, I did find someone to email about my denim question.  I genuinely didn't know what kind of attire would be best.  I somehow ended up emailing Sally Torres (currently in Store Development, I think) who assured me that blue jeans would be just fine.  She was just great.
I arrived on time, and in front of the headquarters, a small number of corporate employees wearing green aprons greeted the the special guests … was I really a special guest?  Deep inside of me, I still thought there must be a mistake.  The friendly partner guided me all the way up to a large open atrium where I met about a dozen other customers who had all received the same invitation.  There were tables set up with turkey and gravy, and a roasting oven was roasting Thanksgiving Blend.  The room was quickly filling up, as corporate partners poured in for the roasting event.  Plenty of natural light filled the room from sky lights above, and there was a definite excitement in the air.
Tom Douglas took a make-shift stage, and spoke into a microphone.  He told stories of discovering Starbucks in the 1970s, and falling in love with their coffee.  He said that in the very early days, he bought coffee from Starbucks, delivered in a van with overly-enthusiastic Starbucks employees.  The employees would repeatedly caution him not to serve expired coffee in his restaurants.  He was constantly being reminded to use a timer to make sure his coffee was always fresh.  On a few occasions, he walked into his kitchen only to find that somehow, at random hours, Starbucks employees had somehow barged in, and invaded his kitchen.  Sure enough, they were checking to make sure his coffee was fresh – timers!  Those baristas took those timers so seriously.  He said that he shooed them off, and they were lucky not to get clobbered by him.   He made emphatic hand motions as he told his stories.
Tom Douglas went on to explain that Starbucks came to him with an idea for Thanksgiving Blend.  In July of 2008, he  cooked up full turkey dinners in his kitchen and eating them with coffee master Anthony Carroll (and others in the coffee department), working on the beginning process of figuring out the perfect beans to pair with turkey, mashed potatoes, and gravy.  During the hot summer days, he was stuffing himself on turkey and stuffing, and trying various  coffees blends.
At one point, in the middle of the presentation, a coffee master subtly told Tom the beans were about to pop.  There was a small break in Tom's story-telling, as the Starbucks coffee master held a microphone directly up to a vent on the coffee roasting oven, and suddenly the sounds of crackling and popping coffee were amplified throughout the room.  It was awesome.
As if this wasn't enough to make me feel like I was on a Starbucks high, there was more.
After a quick round of dining on turkey, gravy, and drinking freshly-roasted Thanksgiving Blend in this atrium room, I was rounded-up with the other group of customers to head off to a special cupping event just for us.
I've written about cuppings many times on this blog – it is a special kind of tasting, and it is the method that every roaster (not just Starbucks) uses to ensure their coffee quality.
Next thing I knew, I found myself in a smaller coffee cupping room, accompanied by the dozen other pre-selected customers.  Included was Jason Simpson (formerly of the coffee department, still a partner), who later authored an internal Starbucks book simply called, "Starbucks Coffee Master Journal."  It is the book that partners currently use to become a coffee master.
We cupped Guatemala Antigua, Sumatra, and then Thanksgiving Blend, all in that order.  Jason reminded us that one important way to develop the palate is to "taste and compare."  These are, apparently, coffee master words to live by:  Taste and compare.
Anthony, another Starbucks coffee master in the room, told us that every new Starbucks blend is developed right where we were cupping coffee.  Yes, we were in the coffee cupping room in the Starbucks Support Center.  (It did make the cupping tables momentarily seem shrine-like, but I was brought back to reality listening to customers around me trying the coffee.)
One thing that became clear to me, and surprising, is that I realized that all the customers in the room were very hard-core Starbucks customers.  Somehow, Starbucks had managed to invite (likely through data on Starbucks cards, I assume) a dozen of its perhaps most dedicated customers in the greater Seattle area.    There was a woman who drove up from Tacoma for the event who humbled me.  She spoke about Starbucks as if she loved the company like  her own child.
I had a moment of realization.  I was not alone.  Lots of people liked Starbucks.  Lots of things were exciting about the transformation that was underway.  I started think that someday I might want to have a blog about Starbucks.  (The blog launched  in September 2009, ten months later).  Or figure out some way to write about Starbucks.  Or share about Starbucks.  But back then, I hadn't yet figured out how I was going to convey Starbucks passion, and nor did I even know who (if anyone) might be interested in hearing my thoughts on Starbucks.
In the middle of the coffee cupping, we were interrupted.  In walked Howard Schultz.  I had a moment of being in awe of him.  He's done a good job of creating addicted customers.
Howard thanked us all for being customers.  He said he was excited about the future of Starbucks, and remarked especially on Starbucks' partnership with (Red).  He spoke for no more than two minutes, and then gave a hurried goodbye, saying, "I have to get back to work."
Following the cupping, I was escorted (with the other dozen customers obviously) to a large meeting room to sit down and meet with Brad Stevens, then Vice President Customer Relationship Management (no longer a partner).  There was more talking, and one man in the customer group talked about using Starbucks as a place where he does marriage counseling.  Again, I was humbled by the passion of Starbucks customers.  At the time of this event, November 13, 2008, Starbucks had their "Black Gold Card" in full swing, where customers paid $25.00 to receive a ten percent discount on purchases.  This predated the version of the Gold Card that has stars and free beverages.   The group talked quite a bit about having to carry a black card around with them, and no one seemed to think it was a hassle.  It was a status symbol.  There was a certain exclusivity.  So few had the Black Gold Card – mostly, it seems, because many customers didn't want to pay the $25.00 fee for it.  One man in the group stated that he had bought several of them for his friends.
Finally, two hours later, we left the Starbucks Support Center.  Each one of us received a parting gift bag – a goodie bag from Starbucks which included freshly roasted Thanksgiving Blend, a coffee tumbler, a Tom Douglas book, and a CD of Christmas music.
When I finally was home, funny thing, I ended up writing up a big blog comment about this on another blog (a little more gossipy one), but I really was beginning to think that I would need my own site for self-expression, and not the resources of another blog which mostly simply curates from what's in current news, be it good, bad or indifferent.
Oh. One more thing:  Someone really ought to warn Starbucks that this kind of "customer outreach" stuff might cause rabid fans.
Thank you for reading my Thanksgiving Blend story.  As you can see, I credit this Thanksgiving Blend event as a significant event that was part of the inspiration I had to create this blog.
Here are photos from the coffee tasting at Olive Way on 10/29/12:
Related posts