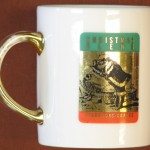 It may be Summer in Seattle, but no better time than now to ask my readers what Christmas merchandise would they want to see sold at their local Starbucks? The pictures in this blog post include just a few older cups and tumblers from a different Starbucks era.  In particular, the 12-ounce tumbler (dated 1996) was a favorite of mine for so long.  I remember buying it at the Starbucks on Northgate Way in 1996.  At that time, I remember picking the tumbler up, then putting it back down again, then picking it up, in that very typical Melody-indecision that grapples me at times.  I remember thinking that I could not decide if the artwork on it was just plain ugly, or incredibly creative.
Other than the obvious answer that every Christmas Starbucks should re-introduce Christmas Blend coffee, what would you like to see in the stores this Winter? You don't have to think about just cups or tumblers, but rather whatever your favorite holiday item might be, even if it is a CD of holiday music that you  have purchased in the past. And this is an open thread, so please feel free to talk about ANYTHING!  If my readers want to keep talking about Iced Via, the new Starbucks in a hospital, decaf Casi Cielo, the new Frappuccino, or dark cherry, flavored coffee in the grocery stores, or anything related Starbucks, please feel free!  Should they bring back the gingerbread latte again? Or do you want to see Bearista Bears again? Or is  just more labor on your Christmas wish-list? 😉
Related posts
Socialize

Subscribe
Join the StarbucksMelody.com mailing list to receive a weekly email with new posts.
Recent Comments