Waffles. Starbucks.
Melody, March 9, 2013
22
1 min

read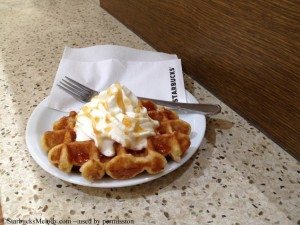 A reader in Poland sent me a couple of photos of the waffles that his local Starbucks currently offers!  They look good.  (Actually, they look ridiculously good!) The reader mentioned that the apple drizzle (as shown) and whipped cream are optional.  (The apple drizzle idea reminded me of the test beverages "Apple Crumble Frappuccino /latte" from about one year ago.)
I definitely think waffles are a fun idea for Starbucks.  Of course, the challenge for Starbucks is how to operationalize them so that they're fast, delicious, and don't use up tons of labor.  Starbucks tested waffles in the Denver market about three years ago.  One thing for sure, if waffles were available right now at Starbucks, I'd buy the current blueberries available for the oatmeal, and use them on waffles instead.
In the photo below showing the donuts offered at this Starbucks store, you can just barely see the waffles on the shelf below.
So what do you think? Would you buy waffles at Starbucks?
A big thank you to the reader who sent the pictures!
Related posts