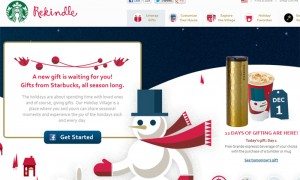 The Starbucks 12 Days of Gifting starts today!  Starting now (December 1, 2012), for the next 12 days, Starbucks stores will feature promotions and discounts which are just for that one day only.  Starbucks has done this for several years in a row, and it's always a lot of fun.  You might find some good deals on Christmas presents/ holiday presents, or a present for yourself!
Thank you to Amy in Boston, who brought it up (including a link) in the comments on the blog article about holiday food.  So here is what to look for over the next 12 days!  (This is compiled from some Google searches, and not official Starbucks information).
Starbucks 12 Days of Gifting:
December 1:  Buy any reusable tumbler or mug and you'll get a free Grande (16 fl oz) handcrafted beverage.
December 2:  Buy one, get one free on 12-pack of Starbucks Via, or the tins of Tazo tea.  (BOGO)
December 3:  Buy the featured Starbucks tumbler  and then fill it up with brewed coffee free during the month of January 2013!  (Thank you Becca in the comments for the update:  This offer is not available in Canada.)
December 4:  Buy a stainless steel tumbler for $9.95, and/or get a one pound bag of Christmas Blend and a (Red) tumbler for only $19.95.  (A pound of Christmas Blend is $14.95, and a stainless steel tumbler alone is about $19.95).
December 5:  Get a red, blue, or gold acrylic tumbler for $5.95.
December 6:  Buy a Merry Moments Cocoa Gift set for $12.95.  This item is sold out at StarbucksStore.com but retails for $17.95.  (I really want to try this!)
December 7:  Buy a one pound bag of Starbucks Christmas Blend (or instead, a 12-pack of the KCup Christmas Blend) for only $9.95.  (As mentioned above already, a pound of Christmas Blend is normally $14.95).  You can also buy a 12-pack of Starbucks Christmas Blend Via Ready Brew for $7.95 (normally $11.95).  Or, you can choose a 12-pack of Christmas Blend Verismo pods for $8.95.  (Per StarbucksStore.com, the Christmas Blend Verismo pods are normally $12.95)
December 8:  Buy a Grande size Starbucks holiday reusable cold cup filled with Caramel Chocolate Bites for only $10.95.  (At StarbucksStore.com, this item is $14.95).
December 9:  Buy a Starbucks Red Cup Collection coffee mug for $3.95.  (At StarbucksStore.com, this item is $6.95).
December 10:  Save 30% on gift packs.
December 11: Save 40% off on Cold Cups and Cold Cup Straws.
December 12:  Save 40% on a Cranberry Bliss Bar tray.
Enjoy your 12 Days of Starbucks Gifting!
Related posts