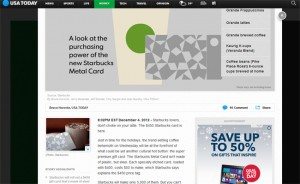 This news article in USA Today truly caught my eye.  This week, Starbucks will start offering a $450 steel card.  Yes, it's a Starbucks card made out of metal.  The card comes loaded with $400.00 on it, and according to the USA Today article, the cost to make the card is $50.00.  The only way to buy this unique card is to order it through Gilt.com.
Unfortunately, Starbucks will only be making 5000 of these cards.  That's a depressingly tiny number.  They'll be sold out fast.  If even 1% of Starbucks gold card holders want one, they'd need to produce something like 30,000 cards, by my best guess.  And then there are the many people who simply like collecting Starbucks cards.  I'm really not sure if I'll be buying one – that is expensive in my book.  And even if I want one, with only 5,000 being produced, it's possible I just won't be able to get one before they're sold out.
Still, it's an incredibly interesting thing they're doing.  About two years ago, there was indeed a metal card "idea" at MyStarbucksIdea.com.  I think that person just got his or her wish.
It appears that on Thursday, December 6, 2012, the cards will first be available on Gilt.com, and it appears that existing Starbucks card holders have the first chance to order one.
Is anyone here going to grab a steel Starbucks card from Gilt.com?
Related posts