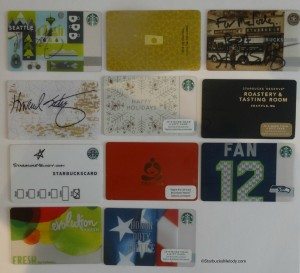 The Starbucks cards in the photo are all mine. All of them (except one) are registered to my Starbucks.com/card (or have been registered in the past – I've unregistered a few cards).
What does that shiny gold card do? Nothing. The card itself does nothing. I was discussing this in a Facebook conversation and whether it was worthwhile to remind people that all their cards are gold, if registered. Everyone of these cards could be my gold card, hypothetically speaking.
I saw great comments in the Facebook conversation and wanted to share two of them:
Comment from a former partner/ former

store manager:

This issue usually came up for me when a customer lost their 'gold card'. It was then I was able to explain about the difference between a gold card and gold status, and that you could enroll multiple cards on the same profile, and they all enjoyed the same status. It can never be explained enough, go for it!

Comment from a current partner:

Your digital information holds the power to gold status, not the shiny card itself

.
One of the ways that this comes up over and over again is when a customer has newly become gold and thinks that he or she must actually have the physical gold card to start redeeming MyStarbucksRewards rewards. This is false. I don't want you to lose rewards while waiting for a shiny gold card!
The main thing here to know is that your gold card is very shiny, pretty, has your name on it, but the physical card itself does nothing. You don't have to wait for it to come in the mail to enjoy MyStarbucksRewards. You don't ever have to use it.
I have seen plenty of partners and customers confused about this. Use any card you like – including a Teavana card, Evolution Fresh card, Starbucks Roastery card, or whatever card you like. And if you're not a part of MyStarbucksRewards, grab a Starbucks card at the register, load money on it, register it at Starbucks.com, and keep track of your rewards. I suggest using the mobile phone app to keep track of rewards. On top of that, the mobile phone app give you the power to digitally tip your baristas too.
Related posts