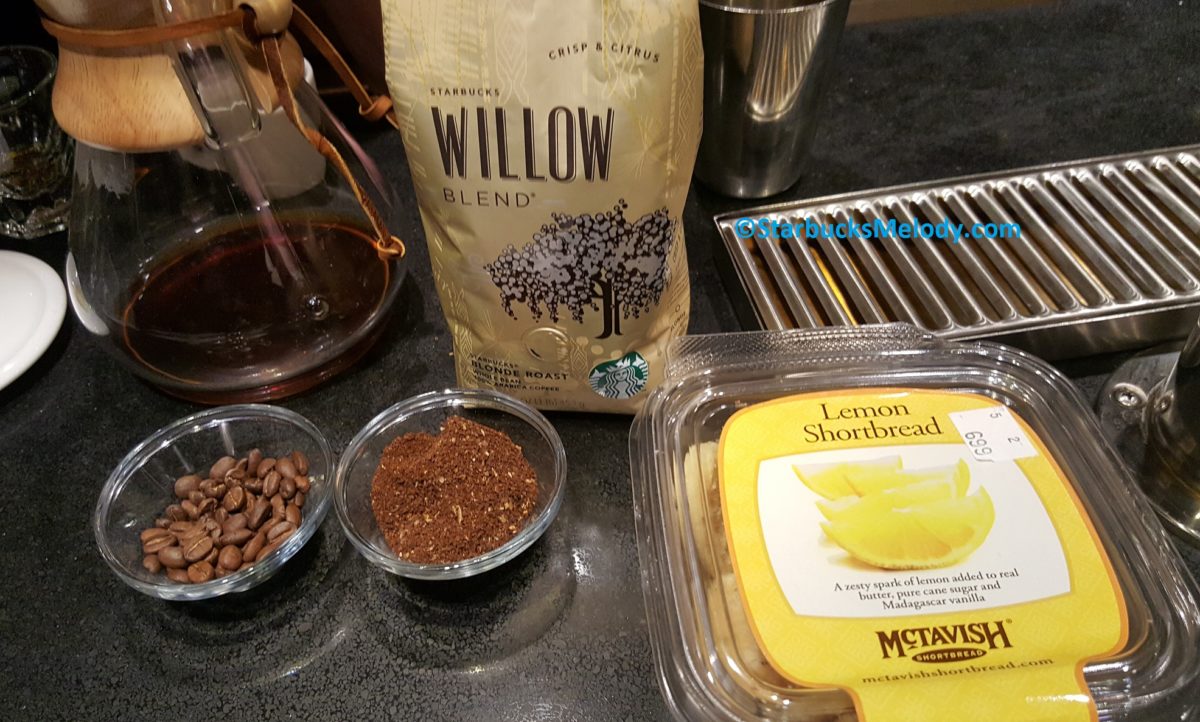 Starbucks Willow is a core coffee, available at Starbucks stores everywhere. Sometimes we get very enamored with Reserve coffees, and then forget about the gems in the core coffee wall. Starbucks partner Straten showed us how elegant and wonderful Willow really is. He started out with a story: One time he'd been at a blind coffee tasting of several coffees and several partners thought Willow was a Reserve coffee when tasting it blind. He said from that point on, he opened his eyes to how wonderful Willow can be. Straten strongly recommends it made via a Chemex. Brew method can make a huge difference in how a coffee shines, and I agree that Willow shines in a Chemex.
Straten started out with passing around the whole bean and ground Willow Blend for everyone to smell (That's a very professional way to start a coffee seminar! You should experience the whole bean and ground coffee.):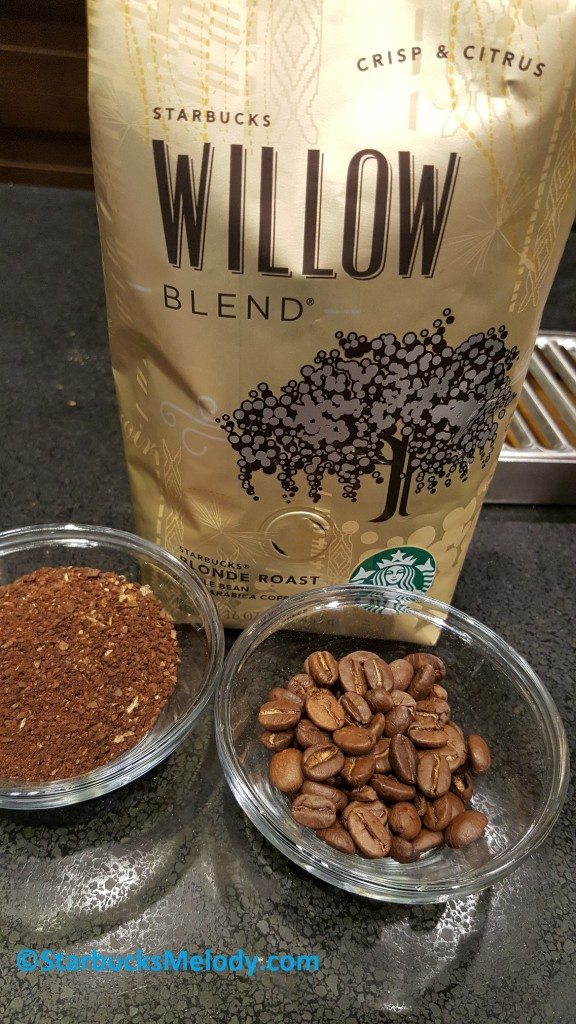 The history behind Willow includes that in October 2011, Starbucks announced their new Blonde Roast coffees, and then introduced them into the lineup in January 2012. Willow is a blend of Latin American and African coffees. Over the years, Starbucks has produced several Blonde Roast profile coffees: Willow Blend, Veranda Blend, Starbucks Reserve Christmas Blend, grocery store flavored coffees such as Cinnamon Dulce Coffee are often blonde roast profile, and lastly, Bright Sky Blend is also a blonde roast (Bright Sky Blend is also a grocery store coffee).
Straten paired Willow with a lemon shortbread cookie. It was perfect! The lemony flavor of the cookie helped went with the lemony flavor of the African component of Willow and the buttery-ness of the cookie reduced some of the juicy acidity elements of Willow. Really well done! Straten said that he tried Willow with a number of lemon candies before settling on the shortbread cookies. He thought a lemon hard candy was too overpowering for this lighter coffee.
Straten also paired Willow with the Lemon La Croix water. That's ingenuous to pair a coffee with water. It has both a palate cleansing element as well as highlighting the juicy lemon notes of Willow.
By the way, I still strongly suggest Willow Blend as a Coffee Shandy.
Enjoy a few more photos from the coffee seminar on Monday, February 20, 2017, at East Olive Way Starbucks:
This coffee event was one of many regular events at the East Olive Way Starbucks. Please come join me! All are welcome – whether you are a customer or a partner, this is a great way to learn about and try coffee.
Related posts