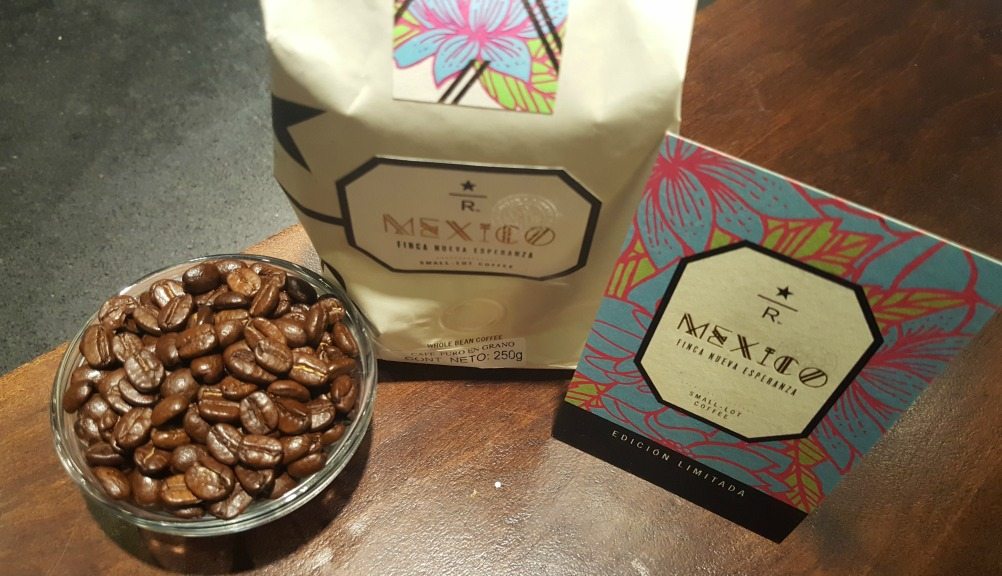 The Starbucks Reserve Mexico Finca Nueva Esperanza coffee was released as a Mexico-exclusive Reserve.
A note for the Starbucks Reserve tasting card collectors out there, the card featured here is NOT considered part of the U.S. lineup of tasting cards, since this coffee was a Mexico-only offering. It seems as though this was a March 2016 time-frame Mexico Reserve offering.
I found this coffee via Facebook. In a Facebook group, a Starbucks partner in Mexico said she was selling this coffee. To be honest, I was never quite clear if she was re-selling coffee that she'd bought from a store or selling her store's coffee, but either way, I knew I wanted to try it.
The Starbucks tasting notes for this coffee are "bright lemon citrus and a touch of almond sweetness." Complimentary flavors are considered to be candied almonds, and lemon custard. This coffee is grown at about 4,100 – 4,920 feet. Also, it's a fully-washed coffee and a medium body. In looking at the coffee beans, it appears to be squarely a medium roast coffee also. It's a high acidity coffee.
I tried this coffee today (April 23, 2016) made via a French press, prepared by Starbucks Coffee Master Megan G., who is a partner at the East Olive Way Starbucks.
We both thoroughly enjoyed this coffee. Just as an aside, I was chatting about this coffee to one of the roasters at the Roastery who mentioned to me, "Coffees from Mexico tend to be so under-rated!" I think that's true.
This coffee has almost a cocoa, nutty aroma, but the flavor profile was very lemony. It's a medium to light weight body in the mouth, with a lot of acidity. It almost sparkles! One of the Starbucks tasting notes is almond, but neither Megan nor I picked up on a lot of almond.
The Mexico Finca Nueva Esperanza reminded me of a very sophisticated Breakfast Blend type coffee. Would be a great cup of coffee to wake up with in the morning!
The varietals making up this coffee are Typica, red and yellow Caturra, red and yellow Bourbon, and Catua. The Mexico Finca Nueva Esperanza is a farm located in La Concordia in the department of Chiapas. The Chiapas area is a tropical jungle in the south-western corner of Mexico where it is one of the most important bio-diverse hot spots teeming with wildlife and plants.
Please visit other StarbucksMelody.com productions:
Related posts