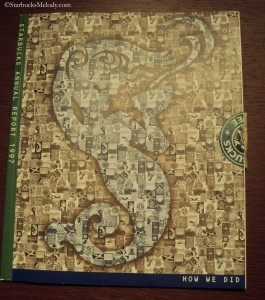 In the past, as part of the history lessons in this blog, I've cycled through some very old Starbucks annual reports.  The annual reports from 1999 going forward can easily be found on the Starbucks Investor Relations webpage.
Starbucks became a publicly-traded corporation in 1992, and their very first Annual Report to the shareholders boasted about 154 Starbucks stores total, as of the annual report's publication.  The 1993 Starbucks annual report boasted 250 stores, in ten markets.  By 1994, the Starbucks Annual Report indicated a total of 399 company-operated Starbucks stores.
My articles on the very old annual reports come from the collection of a good friend who has been a Starbucks stockholder since the IPO.  She was recently digging through boxes, and low and behold, stumbled upon the 1997 Annual Report.  The 1997 report is also unusual in that it contains two distinct sections: "How We Did" and "How We Got There."  Each section is printed 180 degrees in orientation from the other, so you flip the booklet around to read it.
The 1997 annual letter to shareholders (signed by Howard Schultz and Orin Smith) is long, but meaningful to read.  Again, I recommend that you read these beginning letters from Howard to shareholders.  They're fascinating, and a piece of Starbucks history.  I'm including it, and selected images of pages of the report.
To Our Shareholders:
Throughout Starbucks history, we've done things no one thought possible.  We've chosen to take risks, introduce new products, and to re-invent our business even when we are experiencing what some would view as great success.
We have grown at an annual average rate of more than 50 percent per year since 1993, and today, with more than 25,000 employees (we call them partners), and nearly 1,400 stores, we are more committed than ever to executing our strategies with great discipline, exploring new opportunities and challenging the status quo.
Five million customers a week now pass through our doors; and with every cup of coffee we serve, with every pound of coffee we sell, it is our goal to make sure they receive the best the world has to offer – from the highest quality coffees, to helpful, friendly service and a warm, welcoming environment.
We opened 376 new stores this year – the most new stores in Starbucks history – exceeding our own expectations and further strengthening our retail leadership position.  We successfully entered the major markets of Phoenix, Arizona, Miami, Florida and Detroit, Michigan, as well as 15 smaller markets.
We continued our expansion into the Pacific Rim, opening 15 new stores, to end the fiscal year with a total of 17 stores in Japan, Hawaii and Singapore.  We know that our success overseas depends on partnering with like-minded companies, and we recently announced partnerships with several highly respected companies to open stores in the Philippines, Taiwan and Korea in the coming year.
Becoming more accessible and reaching new customers is something that we work toward every day.  We expanded our base of innovative designs this year with the addition of Breve Bars™ and Doppio Kiosks, which are smaller footprint formats of our typical stores.  This allows us to bring Starbucks to new customers in high traffic, space-constrained locations.
We recognize the power of sharing the Starbucks Experience through a variety of distribution channels and new products, and we are very pleased with the trust that consumers place in our brand.  Through our joint venture with Dreyer's Grand Ice Cream, Inc., we introduced six premium-plus coffee ice creams in 1996, which quickly became the number one selling coffee ice creams in the nation.  This year, we added two new ice cream flavors and two novelty products into the line-up, all of which have been extremely well-received.  We look forward to introducing exciting, new ice cream products throughout fiscal 1998.
Last spring, we began the national roll-out of bottled Frappuccino™ coffee drink, a product co-developed through our joint venture with Pepsi-Cola Company.  Judging from initial sales and demand, our bottled Frappuccino™ is a clear customer favorite, and we feel that we have found the product that redefines the ready-to-drink coffee category.  By calendar year's end, we expect bottled Frappuccino™ to be in more than 80 percent of supermarkets nationwide, with great potential for future growth.
Late in fiscal 1997, we announced a unique strategic alliance with San Francisco-based Wells-Fargo Bank to create a new retail format offering full-service banking, Starbucks stores, and other time-saving services designed to meet consumers' everyday convenience and business needs.
Nearly 500 supermarkets in Chicago are currently testing Starbucks whole bean and ground coffee in our second grocery test.  The potential of this distribution channel is significant, and the products and positioning are uniquely Starbucks: premium quality and price;  distinctive, elegant packaging and merchandising; and prominent physical position in the grocery aisle.
Our research and development efforts have resulted in several innovative new products and beverages as well.  Starbucks Barista™  home espresso machine features a new portafilter system that accommodates both ground coffee and Starbucks new espresso pods.  Power Frappuccino™ , a version of the traditional Frappuccino™ blended beverage that is packed with protein, carbohydrates and a healthy boost of 12 essential vitamins, is being tested in several markets.  Early test results indicate that our Chai Tea Latte, a soothing combination of black tea, exotic spices, honey and milk, promises to be a big new hit in fiscal 1998.
And there is so much more.  Our company is living proof that is possible to do well and do good at the same time.  Our people have an endless supply of energy, passion and enthusiasm, and we know that it is important to continue to recognize their outstanding efforts.  We are pleased that we able to continue reward our partners for their accomplishments this fiscal year, granting eligible full-time and part-time employees stock options under our Bean Stock program – making them truly partners and allowing them to share in the Company's success.  We realize that our people are the cornerstone of our success, and we know that their ideas, commitment and connection to our customers are the essential elements in the Starbucks Experience.
This commitment to our partners is why we continue to struggle with the senseless tragedy we experienced over the Fourth of July weekend.  We lost three wonderful partners when Mary Caitrin Mahoney, Aaron David Goodrich and Emory Allan Evans were brutally murdered in our Georgetown, Washington D.C. store.  The police investigation is still ongoing.  Starbucks is offering up to $100,000 leading up to the arrest of the murderer(s), and we have promised the families of the victims that we will not rest until the perpetrator(s) of this heinous crime is found.  We will re-open the store in the second quarter of fiscal 1998 as a living memorial to our partners.  All future net proceeds from sales at the store will go to a Starbucks Memorial Fund that will offer annual awards to local groups working to reduce violence and/or assisting the victims of violent crimes.
In early 1997, we created The Starbucks Foundation, a vehicle for our partners and for our Company to give back to those in need, with the purpose of providing hope, opportunity and inspiration in our communities.  We chose to promote literacy as the first focus of the Foundation because we believe that everyone deserves to have the fundamental tools for success in our society:  the ability to read and write.  We are now involved with many literacy organization all across North America through The Starbucks Foundation and the efforts of our partners and customers.
In early September, "Pour Your Heart Into It,  How Starbucks Built a Company One Cup at a Time," was published by Hyperion.  Our story about building a business with strong values, creating an open, exciting work environment, and leading a company with passion and heart quickly climbed to the top of the bestseller lists.   All of the author's proceeds from the sale of the book are going to support literacy through The Starbucks Foundation.
We continue to give back in the global arena, as well, through our ongoing partnership with the international aid and development organization, CARE.  And we developed a new alliance this year with Appropriate Technology International (ATI) to initiate a new operation in Guatemala as part of the Starbucks Coffee Mission and ATI's ongoing Central American Coffee Initiative.
With fiscal 1997 revenues of approximately  $967 million, the successful development of new Starbucks products, and our continued commitment to our partners and communities, we believe that we have created the kind of business that allows everyone to share in its success.  Moving forward, we will continue to pursue opportunities that increase long-term value for our shareholders and our partners, provide unique experiences for customers, and bring us ever closer to the goal of becoming the most recognized and respected brand of coffee in the world.
To all of you who touch Starbucks in any way, we would like to thank you for your continuing support.
Warm regards,
Howard Schultz
Orin Smith
And now for just a few photos to go with this article:
Related posts