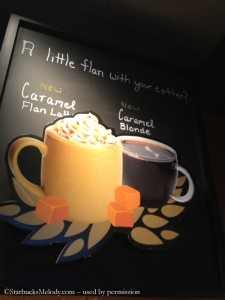 Starting with the new promo launch on January 3, 2013, Starbucks is offering the Caramel Flan Latte in a limited number of stores.  This is a "test" item.  I'm sure that many of my readers know that I love writing about "test" beverages.  Keep in mind, Starbucks tests many more products than they actually launch nationally.  The Caramel Flan Latte is currently being offered in some areas of San Diego, California, as well as some Starbucks districts in Wisconsin.  I have heard that there are a few stores in the Bay Area of California that have this drink too.  Does your store have it?
This drink can be made as both a hot latte, or as a Frappuccino too.  It uses a caramel whip cream (the Starbucks whip cream with added caramel syrup), and a special 'flan' syrup and sauce.  The flan sauce is used as a drizzle that tops  off  the drink.  I have been told that it is supposed to be made with a caramel whip cream, however when I went looking for photos of beverages for this blog, mostly I saw the regular whip cream on it.  It seems that some stores are just skipping the caramel whip cream.
It sounds extremely sweet!  Though caramel is definitely a beloved flavor – I think it might be the most popular flavor ever at Starbucks!  I have heard it described as having a flavor like 'buttered popcorn.'
Have you tried the Caramel Flan Latte?  What did you think of it?

If you want to read about some previous "test" items that Starbucks has experimented with, browse through the Starbucks test products category.  It is an interesting topic.  For example, the Starbucks Frozt went through a couple of different rounds of testing, but apparently has been axed.  There hasn't been any recent news on the Frozt for a while.
Thank you to the several people who emailed me with photos.  I appreciate the tips!  If you have a story idea, a proposal for a guest blog article, or photos that you want to share, email me at Melody at StarbucksMelody dot com.
Related posts