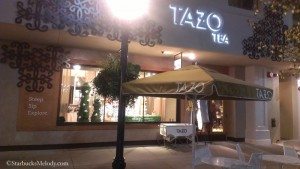 The grand opening of the new Tazo tea store (operated by Starbucks) is tomorrow, the 16th of November!  I dropped by this evening for a special media preview event, and got a sneak peek inside.  It was sensory overload.  I can't begin to describe everything, but it was so much fun being there.  It's one of those place where people will want to smell every jar before walking out the door.  I took a ton of photos, and I still feel like I can only describe a fraction of the experience.
Inside the store, as I recall hearing, there are over 80 loose leaf teas available.  You can create custom blends, or buy your favorite teas, find lots of tea brewing merchandise, and get tea beverages from the beverage area in the back of the store.  Or, you can stand there in sensory overload.
Beverage area:
I got a big kick out of the beverage area in the back of the store.  Cody, a very enthusiastic partner, introduced me to the sparkling iced teas.  I love this idea.  I tried the "Mintly Citrus" as a sparkling iced tea and loved it.  The store has some special CO2 device which essentially adds CO2 to liquids rather than having to add a sparkling water.  This means that if you wanted a sparkling passion tea lemonade, you could do this.  A long time ago (sometime in 2008), Starbucks did a tiny test of sparkling iced teas.  I always thought it was a great idea.  Here's the beverage area of the Tazo Tea store, and you can see Cody making my beverage:
This might have been my favorite part of the experience.  I will be dropping by again for sparkling tea.  The store will have a three or four tea options available, brewed as standard iced tea, and immediately ready to drink.  A customer can request that any tea be made into a sparkling iced tea.  My sparkling tea was fantastic.
Blending station:
You can create your own custom blends of teas.  I was a little bit overwhelmed by this.  The customer starts with a "base" which may be something like classic black tea, English Breakfast, a green tea, or one of many base teas.  Then you can blend in up to two more parts.  I picked a black tea base with a "chocolate" blend in, which were fragrant herbal pieces to be blended in.  I am doing a terrible job of explaining that.  Anyways, for those who know a lot more about tea than I, I bet this would be a lot of fun.  James, a tea blending expert, walked us through the steps of blending a tea, and mixed the tea in a bowl.  As the customer (media person) in front of me was getting their blend made, I snapped a photo just at the right time that really shows of the "blending."
Merchandise:
There was an incredible array of merchandise.  You can buy spoons, mugs, tea infusers, flavor-infused sugars, and flavor-infused honey, chocolates, and much more.  In the picture below featuring chocolate, one bar is labeled "Coconut Curry Chai White Chocolate."  Let me just say, that was amazingly good.  The honeys and sugars are intended by things you might use with your cup of tea.
Interior:
The interior of the store feels very large.  The open, airy design, and perhaps the few hanging mirrors, help make it feel spacious.  There is a tea cupping community table where the store intends to hold tea seminars on a regular basis, including tea cuppings.
Tea and more tea:
Of course, there was tea everywhere.  You can purchase tea in tins, or in little gift boxes, or create a custom amount of tea.  The little metal drawers shown below all contain tea.  As I think about it, I'm not sure if I heard over 80 kinds of tea, or over 100, but it was a lot of tea in the store!
Tazo card:
I have to mention the Tazo tea card.  This was totally cool.  Like the Evolution Fresh card offered at Evolution Fresh stores, this card too can be used at any Starbucks store.  It's again created to be seamless with the Starbucks card programs.  You earn a "star" for each purchase made with a Starbucks card at the Tazo tea store.  Starbucks seemed to have learned a lot from the launch of their Evolution Fresh card earlier this year.  On the back of the new Tazo card, it tells you can use it at Starbucks!  This is, without a doubt, a collectible Starbucks card!  Very cool!
It's hard to write about a whole store because there is so much to say.  I hope you get a chance to visit.  Tazo has re-launched their official website, and you can follow Tazo on Twitter too.
If you want to visit, here's the address:
Tazo Tea (in the University Village shopping area)
2625 NE University Village Street
Seattle, WA
206 729 4953
(You can find all my past Tazo articles here.  I am writing this blog article late at night so please forgive the typos and grammar problems.)  For those who missed it, yesterday Starbucks announced that they would be buying Teavana.   I don't know what that will mean for the tea experience at Starbucks except to say that I expect there to be more tea options soon.  It will be interesting to see how that develops.  I thought I'd mention it here, in case you'd missed that big tea news.
As is obvious, I had a ton of fun trying food, and tea, and smelling a million different little jars of teas.  So what do you think?
Related posts