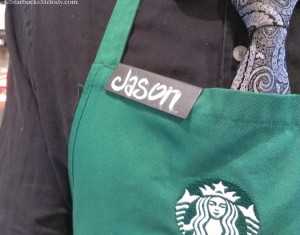 Name tags for Starbucks baristas are right around the corner!  They're starting to pop up here and there.  From what I understand, slowly this month, Starbucks is implementing name tags for their store partners.
I love this idea.  Personally, I can be a bit of a ding-a-ling about remembering names.  I have no doubt that a few baristas who know me can attest to this!  And the reality is, lots and lots of businesses – from grocery stores to clothing retail – have employees who wear name tags.  And in other areas of business, a person is constantly handing out his or her business card.
On sites like MyStarbucksIdea.com, there have been a number of threads asking for name tags:
There are just tons and tons of those kinds of threads at MyStarbucksIdea!
My only worry about the idea of the name tags is that I'll walk in and see that my favorite barista is now "Master Yoda."  It's true, I'd get a good laugh, but understandably, it defeats the purpose of them.  When I first heard that Starbucks was experimenting with name tags (which wasn't all that long ago), the idea didn't seem so surprising because they have already been implemented at the Tazo tea store.
Now it's your chance to weigh in.  The photo in this article shows you what the name tags will really look like.
Related posts