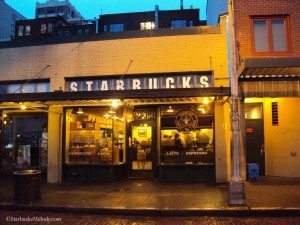 I dropped by the Starbucks at 1912 Pike Place on my way to work earlier this week.  It's always fun to visit that store.  As anyone who has read Pour Your Heart Into It knows, it's the place where the Starbucks magic began.  If you want to read about the store manager of 1912 Pike Place (and his Starbucks career journey), be sure to read this article: Chad Moore – Profile of the store manager of 1912 Pike Place.
By the way, this store is busy at all hours, seven days a week.  The best time to visit is early morning.
I walked in and was greeted by Meridith, who mentioned that she had just made a French press of Veranda Blend to work on her coffee passport.   For those who don't know, a coffee passport is a small booklet that Starbucks provides to all their partners for them to write coffee tasting notes, and keep track of the coffees they've tasted: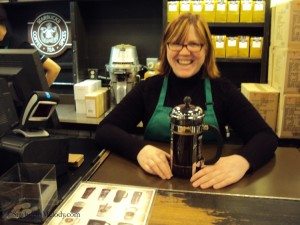 Meridith greeted me by name, remembering me from my last visit … and it had been too long!
The merchandise at this store is unique to this store only.  I noticed that there is both a made in the USA mug and a made in the USA 16-ounce tumbler available right now: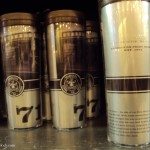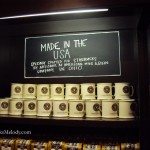 The heavy made in the USA mugs came from the same Ohio factory which produced the Indivisible mugs for Starbucks in 2012.  The store is so small that it seems like there are always boxes of merchandise (or other product) stacked anywhere and everywhere.
One important thing to point out is that 1912 Pike Place Starbucks has a special whole bean coffee blend available only at this store (although First and Pike, at the entrance of the Market, has been known to sell it too.)  The special coffee is called "Pike Place Special Reserve" and it's absolutely worth trying if you get a chance.  It's a pretty dark roast Latin American blend.  It should not be confused with Pike Place Roast, which is an "everyday brew" available in Starbucks stores everywhere.  Actually, as I think about it, I think it would be fun if the Olive Way Starbucks would do a tasting with this special coffee some time.  The Pike Place Special Reserve comes in special brown wrapping, and inside that you'll find a small Flavorlock bag of coffee: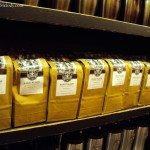 So I bought a beverage, took a few pictures in the store, and then headed to work.  If you've never been to this store, it's a unique experience.  All of the espresso shots are manually pulled on a La Marzocco espresso machine.  And the best part is that the crew of store partners here are incredibly friendly.  Hope you enjoy the rest of the photos!
Related posts