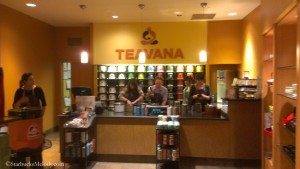 I have discovered that making iced tea at home is incredibly easy.  I am really glad I bought the Teavana infusion pitcher designed for making iced tea.  I ran out of the Blueberry Bliss tea (from my first trip to Teavana) and went back to try some more.  It's super easy for me to get to Teavana since they're located so close to home.
So, on January 25, 2013, I dropped by and bought some more loose leaf tea to make iced.  I've been making all my iced teas pre-sweetened with the "German rock sugar" that I featured in the first Teavana blog article.  By the way, on this second trip into Teavana, Emily, the same Teavana partner who helped me before, was there again, and guided me through this second Teavana adventure.
Let me talk about the teas that I tried:
Peach Bellini Blush Tea: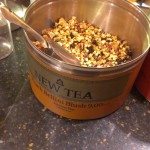 This tea is a rich mixture of fig, dried peaches, and berries.  Emily assured me that this would make a wonderful iced tea, so I got a small amount of this tea scooped out for me to take home.
This is amazing.  The peach flavor in this is fantastic.  I realized that after I'd let the tea steep, the brewed tea looked like some edible concoction.  I was pretty curious about it – I couldn't help but wonder what it would taste like if I put a spoon in there and ate the brewed "tea," which really appeared to be mostly chunks of peaches.  Here's the brewed Peach Bellini, with my infuser of brewed Peach Bellini in the pic too: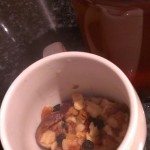 So what did I do?  I guess I am a little embarrassed to admit this, but I sprinkled some sugar on the brewed tea, grabbed a spoon, and then carefully picked out the dried peach pieces.  And then I ate a small spoonful of them.  It's not bad at all.  Totally edible.  Caveat emptor:  Teavana clearly is selling the Peach Bellini Blush for making hot or iced tea, and although it might look like a breakfast cereal, it's not. 😉  Don't try this at home!
Oh yes, this was two solid thumbs  up as an iced tea.  Fantastic.  And yes, I wish Starbucks would offer some kind of peach tea!  I had had hoped for a peach tea at Starbucks when they did the test of their peach tea in the South last year.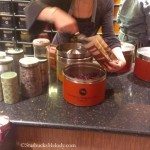 Sevenberry Sangria tea:
I also bought a little Teavana Sevenberry Sangria tea to try at home too.  It was incredibly aromatic and it sounded great.
Let me tell you, the name of this tea absolutely describes it perfectly.  I can't believe how much it has a sangria-like texture and flavor.  I took a sip of it iced and I flash-backed to being 19-years old again.  Suddenly, I was in the Air Force, stationed at Torrejon AB, Spain, and drinking Sangria in Madrid.
I distinctly one evening in Madrid, dining at restaurant called Botin's.  The special occasion was that one of my sisters had flown from California to Madrid for a vacation, and of course to visit her sister in the Air Force.  I was a little buzzed from the big glass pitcher of sangria.  I can remember at that moment knowing that I'd always want to remember that night.  I stole the wooden spoon from the sangria pitcher, which had the word "Botin's" stamped on it.  It might be the only thing I've stolen in my life!  But I was buzzed, and I wanted a memento of that night.  By the way, the year was 1986, and I don't think that Botin's was considered as such a high-brow establishment back then as now.  When I look at their website, it just looks way more expensive and high-class than what I remember.
As to the tea, this was the only mild disappointment.  I am not totally convinced that it's best as an iced tea.  Try this Teavana tea hot.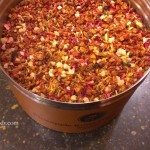 Pineapple Kona Pop!
Last but not least, I want to mention the Pineapple Kona Pop tea at Teavana.  The aroma is stunning. This too made a fantastic iced tea.  The pineapple flavor was very strong.  It's interesting, but Teavana comes up with tea names that truly do exactly describe their teas!  I would buy this again, and prefer it as an iced tea over the Sevenberry Sangria.
I know it's not really iced tea weather in many places, but I sort of think of iced tea as a year round drink.  Hope you enjoyed this second trip to Teavana!
***
***
I've heard that there are about 300 Teavana stores in the US, and you can buy their teas online too at Teavana.com.
More random photos from my trip to Teavana:
Related posts