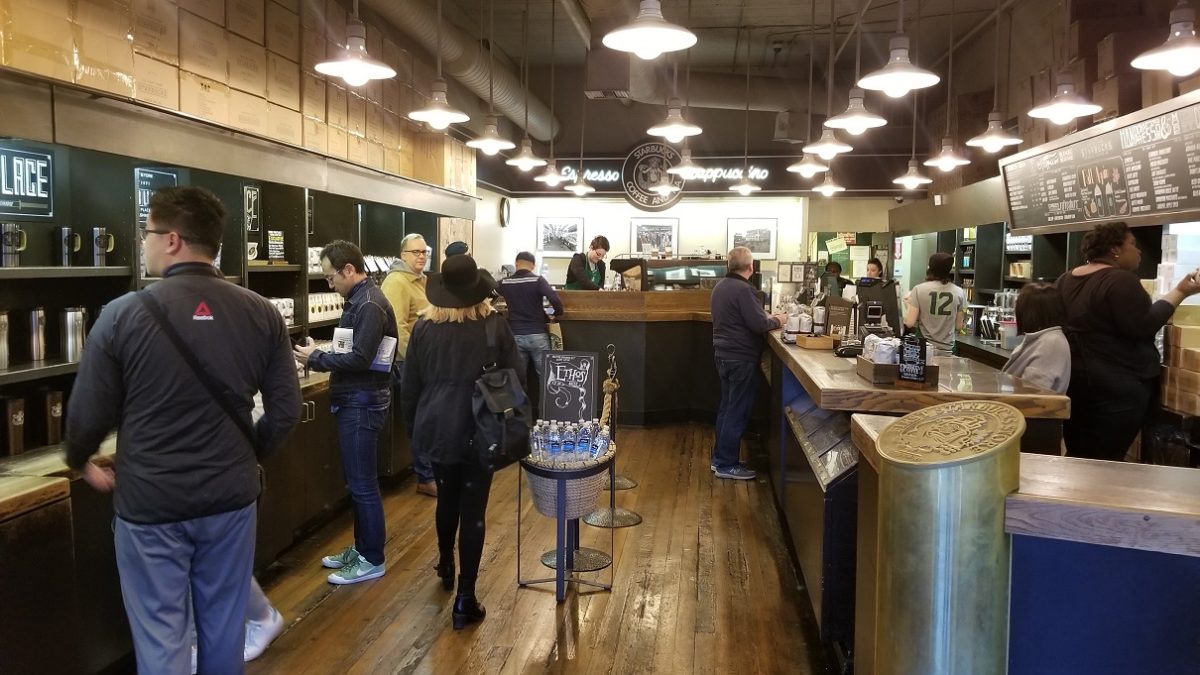 Each time Starbucks opens up a new store, it is an embodiment of the first Starbucks "where it all began" in Seattle's Pike Place Market. Today, you can still visit that store at 1912 Pike Place, decades after it first opened its doors. Here are a few tips for your visit to 1912 Pike Place Starbucks:
Go early in the morning – the store gets packed and lines sometimes form out the front door.
Pay with your Starbucks card and earn rewards! Use your Starbucks card there just as would any other Starbucks or Starbucks-operated business, such as Roy Street.
There is a lot of unique merchandise at the store – do not pick up merchandise from the shelves and bring it to the register. Make a note of what you want, ask about it at the register. The barista will get you a new item in a box.
Take in the many unique things about the store. The baristas toss cups from the register to the barista on bar.
Enjoy an espresso beverage on a nice semi manual machine – it's not an automatic espresso machine. The store uses a Nuova Simonelli espresso machine.
1912 Pike Place Starbucks has their own exclusive blend. It's Pike Place Special Reserve, which is reserved only to the two stores at Seattle's Pike Place Market. Be sure to pick up a bag of Pike Place Special Reserve!
Notice that there are old beans on display in bins below the register area of the store – those were from the days when Starbucks sold beans scooped out of bins. Take a look at the coffees that have come and gone over the years. Did you know that Viennese Blend was a blend of House Blend and French Roast?
After visiting the Starbucks at 1912 Pike Place, be sure to visit more of Seattle's unique Starbucks sites:
Visit the Roastery at 1124 Pike Street, at the intersection of Pike and Melrose. From 1912 Pike Place, walk up Pike Street, east-bound, up the hill, just about one mile. Pike Place and Pike Street are two different streets. Pike Place is an old stone road that runs north – south. Pike Street is a city street running east – west.
Visit Roy Street Coffee – a one-of-a-kind learning laboratory for Starbucks. It is a Starbucks-operation but most of the food and beverages are unique. Roy Street is located at 700 Broadway East and is about two miles from 1912 Pike Place. It is a must-see location. Yes you can use your Starbucks card there and earn rewards. Browse past articles on Roy Street here.
Visit the Starbucks Reserve Bar in Seattle, at 1305 First Avenue, across from the Seattle Art Museum. The front entrance to the Reserve Bar store is across the street from the Hammering Man statue in Seattle. Visit Wednesday nights at 6:30 PM to join in a free coffee education event.
Visit the "Sky Bucks" Starbucks located in the Columbia Tower. This is just an ordinary Starbucks, however it is on the 40th floor of the Columbia Tower, Seattle's tallest building. When you visit, you will be treated to free views of the city.
Visit a concept shipping container Starbucks – Seattle has two of them. One is the original shipping container store, called the "reclamation" concept store in Tukwila (on the edge of Seattle and Tukwila.) There's also a shipping container Starbucks in the Ballard neighborhood of Seattle.
Enjoy a few photos of 1912 Pike Place! (Click onto the photos to make them larger.)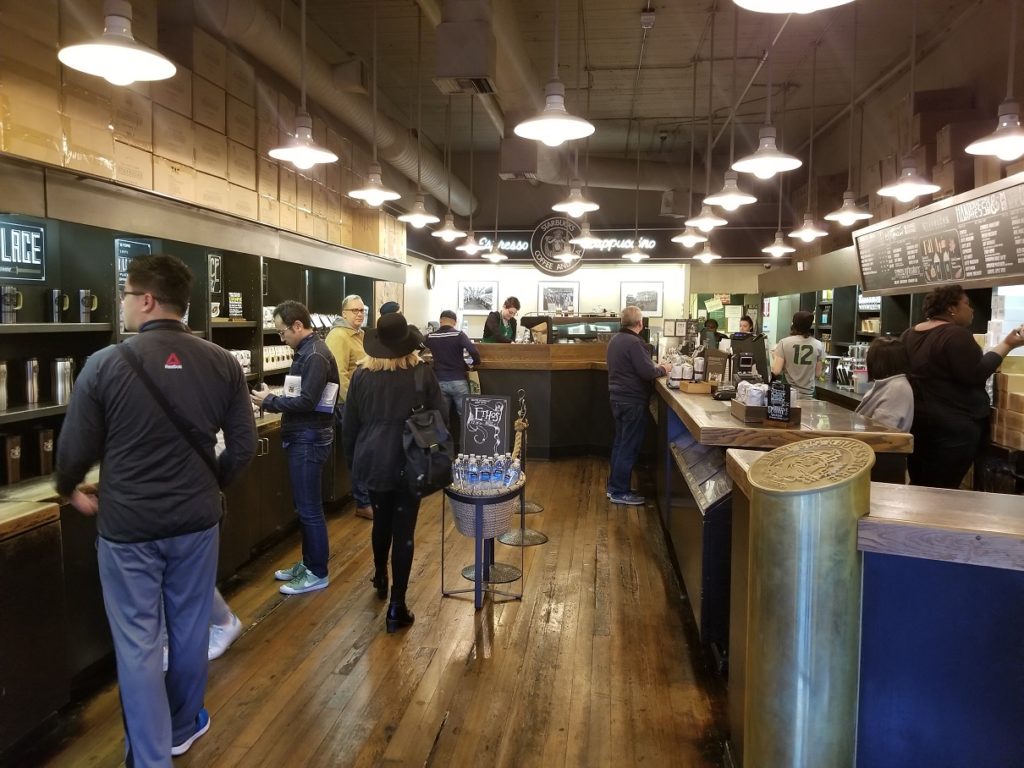 This little website recently went through a site redesign. I hope you like the new look. Please use the contact me form if you have any comments on the site design or anything else. I hope you will subscribe. Just enter your email address and you'll receive a newsletter once a week (Tuesday mornings) with all my latest stories!
Related posts