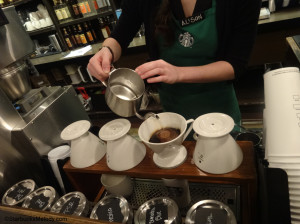 The only U.S. Starbucks that offers Reserve coffees but does not have a Clover brewer is 1912 Pike Place Starbucks. That historic store is located in Seattle's Pike Place Market in a historic building. I recall in the past asking store partners why their store didn't have a Clover. As I recall, I heard things like that the store is just physically too small and that because it's in a building designated as a historic structure, any kind permits for plumbing modifications would be difficult to obtain.
A pour over, if correctly done, will create an amazing single cup of coffee. At the 1912 Pike Place Starbucks, they do a slow brew pour over, pre-wetting the paper filter first and then slowly pouring the water over the grounds for about a three minute brew time. Pre-wetting the filter of a pour over helps to remove any paper flavor from the coffee and slows down the coffee extraction time as well.
If you want a pour over at this store, you have to order from the selection of Reserve coffees listed on the menu board. The charge per cup varies depending on which coffee bean you choose.
I know the Clover coffee brewer makes a great single cup of coffee but the experience of a great pour over rivals it. It's a renaissance of coffee happening at 1912 Pike Place Starbucks. This store just started offering the Reserve pour over about one week ago.
Hope you drop by and check it out. If you like reading other articles on 1912 Pike Place, click here.
On a completely different topic, Wednesday, March 19, 2014, is the Starbucks annual meeting at McCaw Hall in Seattle. The actual meeting starts at 10:00 AM. If you'll be there, and you see me, please say a friendly "hello." In honor of the annual meeting tomorrow, I'm recommending that you click through to those older article of mine which features the first Starbucks Annual Report ever – the 1992 Shareholder's Report. Take a look! It's quite a history lesson!
Related posts