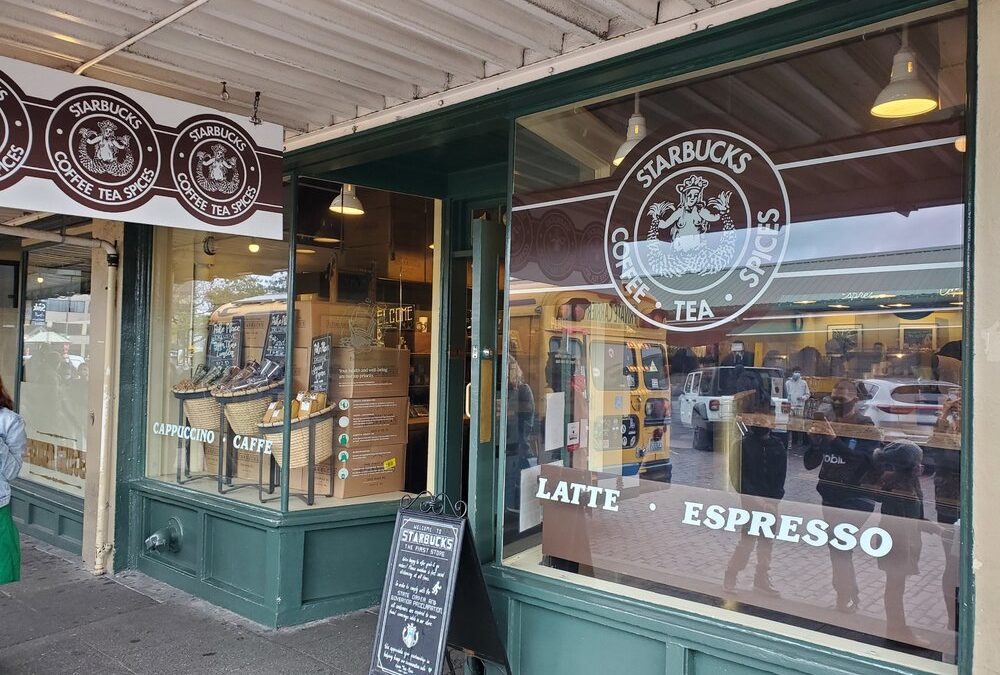 The original Starbucks: 1912 Pike Place in the year 2020.
Melody, October 11, 2020
3 min

read
On October 10, 2020, I dropped by the first Starbucks at 1912 Pike Place. It had been quite a while since I visited and completely forgot how long you might wait in line to get in. It is still best to arrive very early in the morning, or perhaps later in the day. I got to the market about 11:30 AM on a Saturday and got into the store roughly a half hour later.
As a reminder, this store does not offer mobile order and pay. And there is no food at this store. Also, the maximum store capacity at this time is just 8 persons, so this too might contribute you to waiting in a line to get inside! Like everywhere in King County, Washington, you will be required to where a face mask to enter, and the baristas inside the store will be wearing them too.
Another tip for this store relates to the merchandise: You will notice that the store has a lots of unique and exclusive merchandise. Don't just grab what you want from the displays. The baristas have boxed mugs and cups behind the bar and so it actually works smoother if you just tell the barista what cup or mug you want. The barista will get you one in a box rather than one that has been on display.
The store had an overhaul of the merchandise some time in September this year. Definitely this store gets a periodic refresh in store merchandise, just as any store might, and so much what is available now is new as of September.
One consistent thing over many years is that this store has its own very limited coffee: Pike Place Special Reserve. This is not the same thing as Pike Place Roast available at your local Starbucks. Ask the baristas at 1912 Pike Place about their exclusive coffee.
1912 Pike Place consistently donates to the Pike Place Market Foundation. Right now there is a "Rachel the Pig" cold reusable tumbler that if you purchase it, $2 gets donated to the Pike Place Market Foundation. I think that for many Starbucks fans, they might not see an immediate connection to Rachel the Pig and Starbucks. Rachel is the mascot of the Market, and a bronze Rachel statue sits at the entrance, as a piggy bank. Donations into it also go to the Pike Place Market Foundation.
While 1912 Pike Place changes, it remains the same too. It is still embodies the spirit of Starbucks. where the Starbucks story began. I did a short 2013 article on 1912 Pike Place Starbucks, if you want to check out some older photos. A 2014 article shows you some older merchandise. There is a charming photo of the front of the store here. And this article focuses on very old history related to this store.
Did you know that Starbucks was nearly called "Pequod" or "Cargo House"? Gordon Bowker, one of the original founders of Starbucks in 1971, gave an interview to the Seattle Times years ago, and revealed that those were two names in the running for their new coffee business.
Enjoy your trip to 1912 Pike Place! Hope you enjoy the peek at the latest merchandise.
Related posts