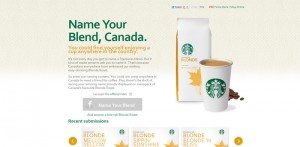 Starbucks Canada has a fun promotion to name blonde roast coffee!  I was reading the fine details, and saw that the coffee name submissions must be received by February 10, 2013, and decided I needed to write an article quickly on this.  You have to be a resident of Canada to participate – sorry everyone else!  Starbucks partners in Canada also received cute blonde mitten and caps to wear as part of their blonde roast promotion.
Here is the webpage to enter in the Name Your Blonde, Canada contest.  From what I understand, the blonde roast coffees sell very well in Canada, and the contest will re-name Veranda Blend for the Canadian market.  The grand prize is a trip for two to anywhere in Canada.  (It's actually qualified as a trip for two to a company-operated Starbucks in Canada.)  I read the fine print and it looks like if you are in Quebec, you are not eligible to participate.  The trip for two  includes airfare, a four night hotel stay, a $500 Starbucks gift card, and $500 spending money check.  (Please note, the fine print gives those amounts as Canadian dollars.)  I can't see any reason not to submit an entry.  If I lived in Canada, I'd submit a blonde coffee name.  The contest uses Facebook as its platform, so you must have a Facebook profile to enter.  By the way, you can also "like" the Starbucks Canada Facebook page.
Turning back to those blonde Starbucks logo mittens and cap: they look adorable!  I am really jealous they're not in the US.  I tried to find them on eBay, but no luck.  Here's a picture sent in by a reader – doesn't it look like this barista is having fun sampling blonde roast coffee in front of his Starbucks?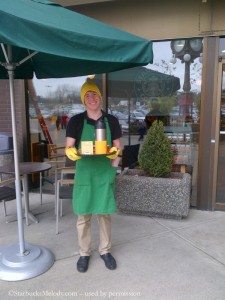 And, I have one more photo featuring the adorable blonde knit hats.  Another reader of the blog (also in Canada, obviously) sent me this picture: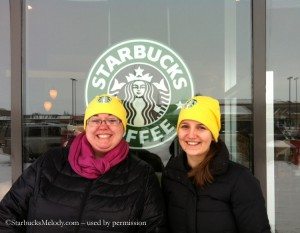 I love these photos!  A huge thank you to the two readers who emailed me pictures!  You look great!
Hope you enjoyed the adorable photos and the contest information. And what would you rename Veranda Blend? 🙂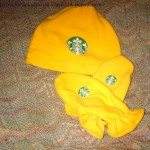 Related posts