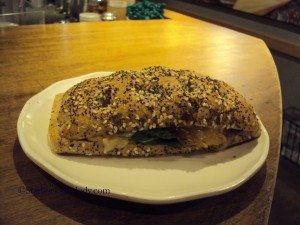 There are two new food items at Starbucks that are definitely worth trying.  They are the Cheesecake Brownie and the Turkey Rustico Panini.  Both launched new in early January this year, and I assume they're seasonal items, meaning they'll end sometime in the spring.
The Cheesecake Brownie is very rich, and has just the right texture too.  I almost think it could have come in a smaller size.  And it's pretty too, since the top has a swirl of chocolate in the cheesecake part of it.  If you're looking for a treat, this is a good one.
The Turkey Rustico Panini is one of the best panini sandwiches in a long time.  It has a wheat bread, and in it you'll find turkey, kale, and a mustard and onion spread.  I am  not a fan of mustard as a flavor so I am happy to report that the mustard flavor is pretty light and mild.  The sweetness of the onions does come out.  And I like that it's a pretty hearty portion of turkey.  There is one completely annoying thing about this panini.  The bread has small seeds on it, which easily get stuck in your teeth.  And I have noticed that the seeds easily fall off.  I can say from first hand experience, if you're enjoying this at a conference table at a meeting, you might easily end up a pile of little seeds in front of you, and an urgent need for dental floss.
I don't know if I have any readers who haven't seen these items in their neighborhood stores yet, so I thought I would mention them.  The Turkey Rustico Panini and Cheesecake Brownie are available in US Starbucks locations.  I want to mention that if you haven't tried the Chocolate Bites, they're still available and found at the register area of the store.  They are so good.  The Salted Almond Chocolate Bites are fantastic.
I know it's a complete change of topic, but I want to recommend a blog that I read now and then:  It's "Miss Woodhouse's Musing."  I follow the author of that blog on Twitter, where she is self-described as a "Teacher of English. Dispenser of Coffee."  I like her blog because she's insightful, honest, touches on Starbucks now and then, and it's incredibly well written.  I am pretty sure that you'll find fewer typos and grammar problems on her site than you'll find on mine!  Just in case you're looking for something new, I'll recommend that site.  I don't want you to leave me of course!  (Tell all your friends about my blog!)  I just feel the need to share some blog love.
Related posts