The Small Starbucks Snack Food Test: Gluten Free snacks.
Melody, May 27, 2014
19
1 min

read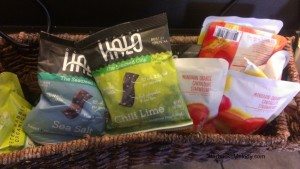 I discovered that Starbucks has a small snack food test going on. In hit and miss areas of California, you'll find three pre-packaged snack food items, all of which are not available in Starbucks stores nationwide.
The three snack food items are all labeled gluten free. It appears to me that these are being tested to trying and provide some new options for customers following a gluten free diet.
The three items are as follows:
1) "That's It."  brand snack bars. There are two different flavors. One is apple – mango and the other is apple – blueberry. They appear to be small bars made by a California-based company specializing in fruit bars that are GMO free and gluten free. More information is at http://www.thatsitfruit.com.
2) Justin's dark chocolate peanut butter cups. I've have been told that there is a milk chocolate version found in some Starbucks, but I have not seen those yet. The peanut butter cups are organic. For more information, here's their website. http://justins.com/item/dark-chocolate-peanut-butter-cup-single/
3) Ocean's Halo brand seaweed chips. There are two flavors available at Starbucks stores – Chili Lime and Sea Salt. I was digging through their website at http://www.oceanshalo.com and somewhere saw that two percent of their profits go to good-cause organizations involved in protecting the ocean.
If you've had the chance to try these snacks, let me know what you think! I always find these small tests pretty interesting and thought you'd like it too. Feel free to weigh in on anything related to these snacks or gluten free options at Starbucks.
Related posts