Casi Cielo chalkboard art – Key Tower Starbucks.
Melody, February 23, 2013
10
1 min

read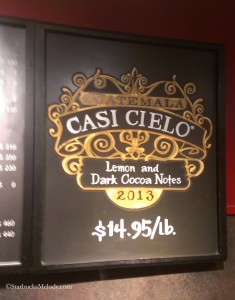 I am a fan of great Starbucks chalk art.  There have been several times that I have featured Scott's hand-drawn art, which is on display at the Seattle Municipal Building (aka Key Tower Starbucks) in Seattle.  I walked into his Starbucks store today and saw his amazing Casi Cielo artwork – all hand drawn – and thought I had to feature it again.  Hope you like it too.
If you want to see some of Scott's previous art, check out the Indivisible chalkboard,  Christmas Blend 2012, Christmas Blend 2011 (one of my favorites of his), and his Anniversary Blend 2012 art work.
Scott, I think your  artwork is stunning!
And, I hope you'll like my blog's Facebook page too – one more way to keep up with the blog's updates.
Thank you.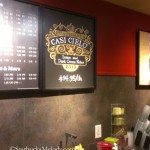 Related posts