Yesterday, (10-18-14) I participated in a coffee tasting bonanza. It's funny because it wasn't totally planned as such but ended up being an amazing day of coffee tastings! I tried the following:
Tasting Starbucks Hacienda Alsacia in a compare/contrast tasting with the Starbucks Reserve Geisha La Ines.
Starbucks Reserve Colombia El Penol paired with food.
 Anniversary Blend with rosemary smoked truffle salt popcorn.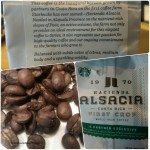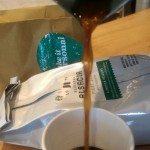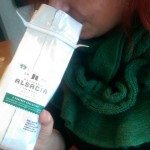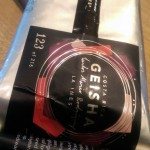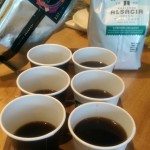 HACIENDA ALSACIA and GEISHA LA INES:
Jocelyn (a friend and current partner) and I met up at the Bainbridge Island Starbucks. As we sat, several other partners dropped by where we were sitting to say hello and connect. There's no better means of connecting than tasting coffee!
One partner brought us his personal bag of Starbucks Hacienda Alsacia coffee. This is a near-impossible coffee to come by. Starbucks owns a farm in Costa Rica called Hacienda Alsacia. This is a new venture for Starbucks. This Hacienda Alsacia coffee bag held the first crop ever sourced and produced from the Starbucks-owned farm. I couldn't believe his generosity in leaving us his bag of it! He knew we'd love it, but still! This coffee was only distributed to Starbucks District Managers and above at the recent "Starbucks District Manager Leadership Conference" held in Seattle last week.
Later on in the day, a partner produced a bag of the Geisha La Ines coffee, which seemed to come out of nowhere. You may recall, I went to the roasting of the Geisha La Ines, in August this year. Being able to side by side compare these two coffees was fantastic. They're both grown in Costa Rica but obviously are two different varietals and even their roast profiles were different.
I was getting over a head cold, so my own tasting felt a little off. I thought that the Hacienda Alsacia was pretty complex for being a non-blend coffee. I picked up a little spiciness in the Hacienda Alsacia. Jocelyn's tasting notes were as follows: "We did a side by side comparison with the Geisha La Ines. If you've tasted the Geisha, you would know that coffee is sweet, but in an exotic fruit type of way. This coffee could be a cousin.. Sweet, but with this beautiful floral aroma. Sparkling acidity with a hint of citrus."
COLOMBIA EL PENOL: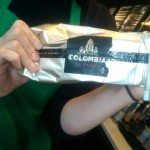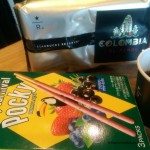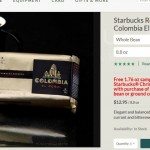 The Colombia El Penol coffee is a new Reserve coffee, which will be available in Starbucks stores beginning October 21, 2014, and is already available on StarbucksStore.com.
Jocelyn mentioned that she gets a lot of cranberry and cranberry juice flavors out of this coffee. StarbucksStore.com describes it as "black current and bittersweet chocolate mousse."
She paired this coffee with the Berry Carnival flavor Pocky sticks, something that is easily found at Seattle's iconic Uwajimaya grocery stores. (I realize that this is sort of a very local Seattle thing: Uwajimaya is kind of a Seattle institution and it seems like everyone who is a long-term Seattle resident has been shopping there and knows about it.)
This was a surprisingly great pairing. The Pocky treat is like a hard, unsalted pretzel stick, with a candy coating. The candy part of the treat has a rich flavor and helped make the "currant" flavor in the coffee come out more. I felt like the chocolatyness of the coffee went well with the pretzel-like part of the Pocky treat. I realize this is a really unusual pairing, but definitely well thought out!
I found the Pocky treats on Amazon.com, in case you really want to order a box.
ANNIVERSARY BLEND: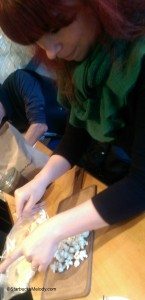 I had so much fun yesterday that I forgot to take a lot of pictures! We paired Anniversary Blend with Jocelyn's home-smoked rosemary, truffle salted popcorn.
I should have taken a photo of the bag of Anniversary Blend, but somehow neglected to in all the fun. Hopefully all of my readers here have tried and/or seen Anniversary Blend before. It's a bold, spicy coffee that was originally introduced in 1996 to celebrate Starbucks' 25th anniversary.
Popcorn and Anniversary Blend is a classic pairing option. This was an especially fabulous pairing as the smoked popcorn brought out the roastyness to Anniversary Blend. In general, Anniversary Blend will pair nicely with many savory food options. A buttery popcorn is perfect with Anniversary Blend.
I noticed that Anniversary Blend is now gone from StarbucksStore.com, but you can still find a bag or two of it here and there at your local Starbucks stores.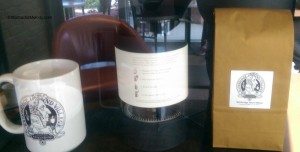 Last but not least, we also tried Bainbridge Island blend with the La Boulange Pecan Tart. That's a perfect option of Bainbridge Island Blend! I just didn't get enough pictures.
Hope you enjoyed these coffee tasting adventures! We spent hours at the store, just trying one coffee after another. I know I said it already, but it was an incredible day!
I'm always interested in hearing about your coffee tasting adventures. Please feel free to tell me about fun coffee events you've been to at Starbucks, or anything Starbucks coffee related.
If you like reading about coffee tastings, I recommend browsing past articles in this category. In particular, I thought this coffee event for the Panama Reserve coffees was fabulous.
Related posts