A reader in Belfast sent me some great photos of his neighborhood Starbucks store.  I always think it's fun to have a glimpse at what international Starbucks stores offer.  There are just a few things about these pictures that I want to highlight.
First off, the mini treats look great!  I wish that Starbucks would bring back some of the original petite treats, or consider a relaunch with some new exciting mini treats.  I would definitely like to try this black forest mini cake.  And generally, their food looks better than ours:
The reader sent a photo of the lobby of his store.  It looks like a Starbucks!  Actually, it looks like the older standard design as opposed to the many remodeled stores here in Seattle.  One thing that struck me was the table with the checker board pattern on it.  I have not seen one of those in ages.  Call me sentimental, but I miss the old round decorative tables.  (There was another version that had a bunch Sirens on it).  Overall, the new stores strike me as elegant and lovely, but there was something about those tables that I really liked.  I guess I played too much checkers as a kid with my little brother Eric: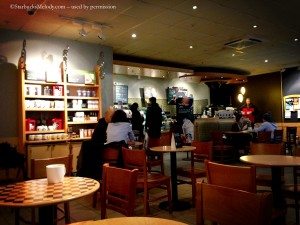 Last but not least, the reader sent me a photo of the special Queen's Jubilee mug available at this store.  I'm a little surprised that this store has any left.  That mug is highly collectible. Starbucks partnered with a small British pottery firm called Emma Bridgewater, located in Stoke-On-Trent, and only produced 6,000 of these mugs to be sold in Starbucks stores in the UK and Ireland markets.  I have seen them on eBay in the past going for $50 or $60, but at the moment I can't find any on eBay.  I wish I was there to buy one!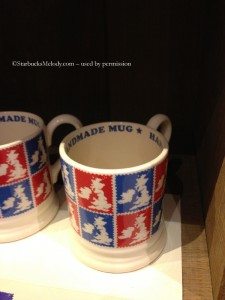 Hope you enjoyed your quick trip to Belfast!
Related posts