Starbucks introduced some interesting food items in their fall lineup. Their classic oatmeal gets a big shakeup by now offering it with a banana compote and a nut and chocolate chip mix. It's called the "Dark Chocolate and Caramelized Banana Oatmeal". Look for it in the pastry case: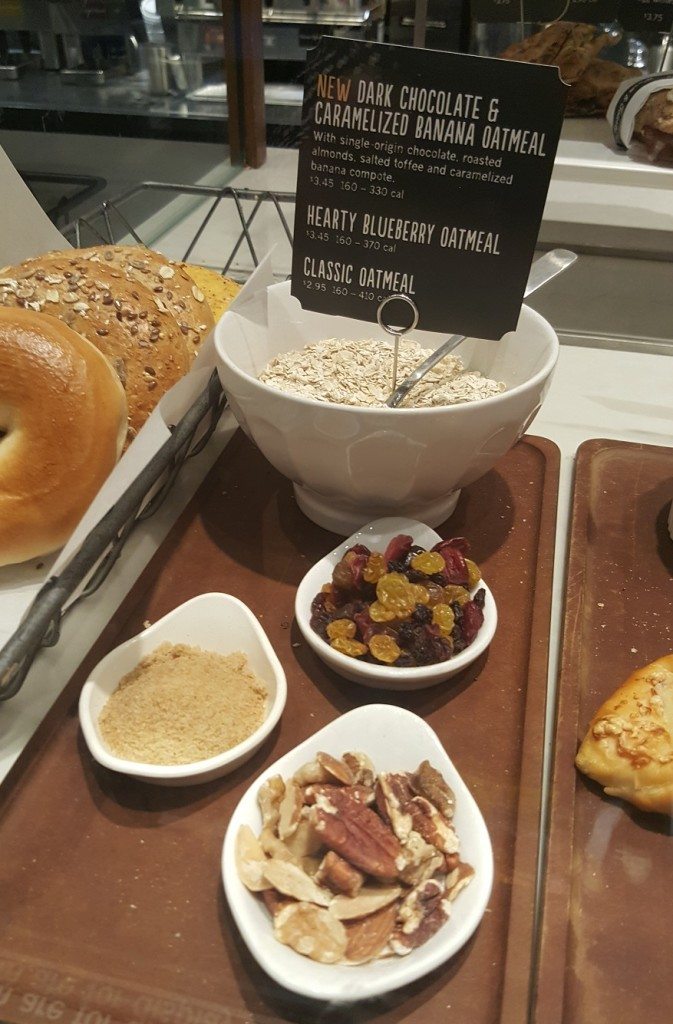 Starbucks introduce the new Dark Chocolate and Caramelized Banana Oatmeal this past Tuesday, September 6th. I didn't try it until the evening of the 7th. (Sometimes I try things early, but not in this case). I will say I went into trying it a little suspicious of it. What I'd read on social media was pretty rough reviews of this new breakfast item. Most people weren't liking it.
When you order this, you get a small plastic package of a nuts and dark chocolate chips mix as well as a plastic package of a banana compote: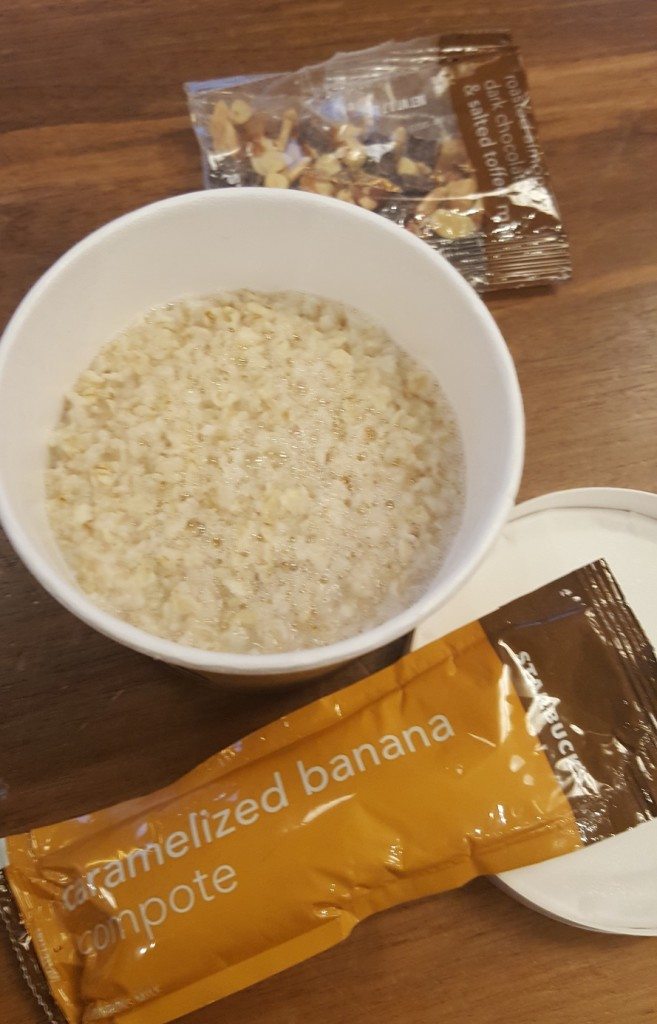 Open up the plastic package and pour the caramelized banana compote onto the oatmeal. Stir it all together: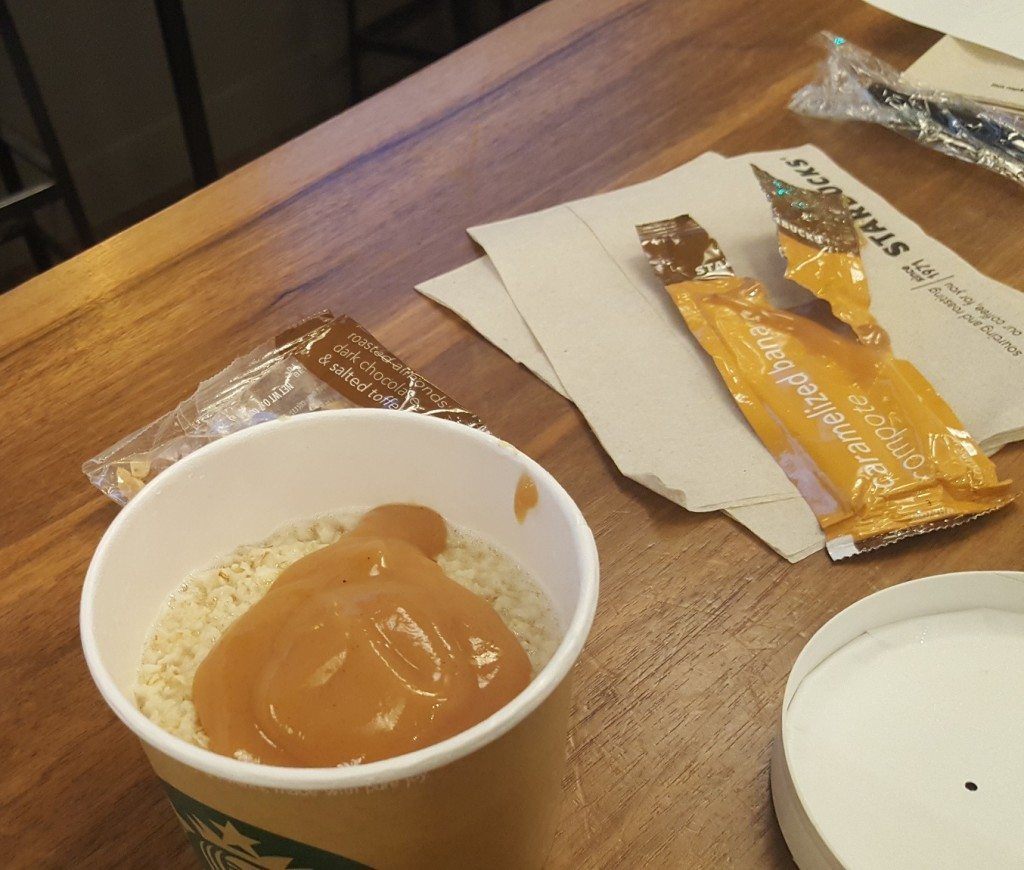 Now I too am pretty suspicious of this new oatmeal offering. It doesn't look so great. What is this? It's a little reminiscent of baby food.
I had to ask myself why you wouldn't just used a real banana rather than a highly processed banana with added sugar in a small plastic sachet?
I compared the sight and taste of both. I ordered an oatmeal with a banana and added in the the chocolate chip and nut mix without the banana compote. Keep in mind, it's a lot more work (and more expensive) to get the banana on the side and then cut it up for the oatmeal. Here's both oatmeals: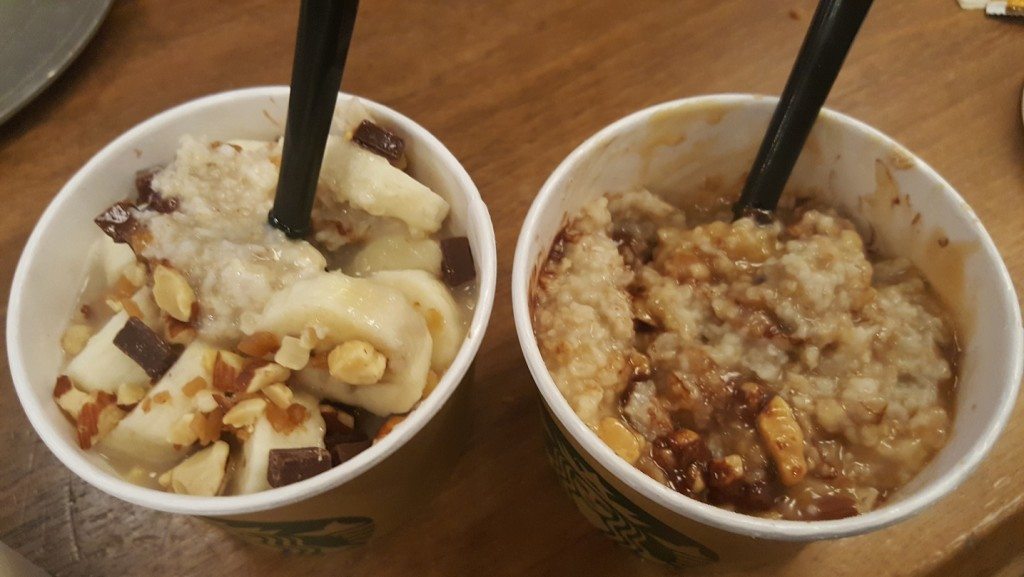 Look at how a beautiful a natural banana is!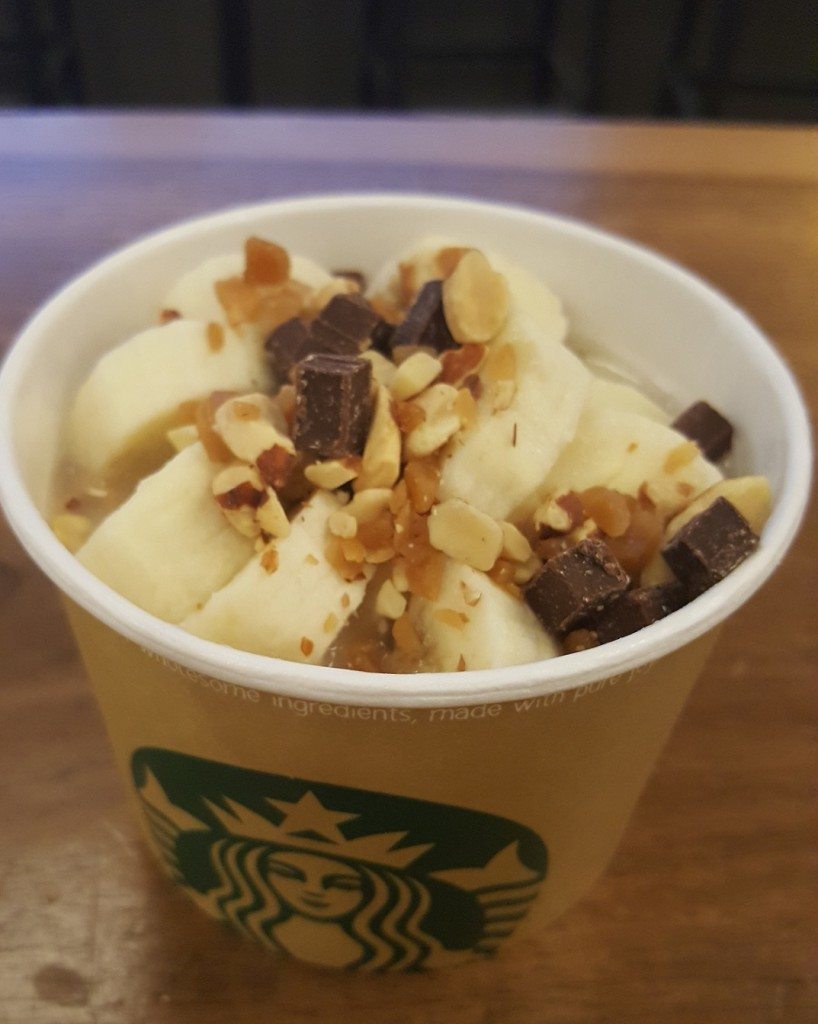 Sigh. At the end of the day, I have to give the new Dark Chocolate and Caramelized Banana Oatmeal two thumbs down. I hate doing that, but I simply can't like everything Starbucks does. It's unappetizing in its appearance. It's super sweet with a sugary caramel flavor more prominent than the banana flavor. And, there are real bananas in the stores. If you're ordering oatmeal, you probably hope for something reasonably healthy, so adding in processed banana with added sugar makes no sense.
So you could do one of two things:
Order the new Dark Chocolate and Caramelized Banana Oatmeal, and mix in side add ins, as Starbucks suggests.
Or order the new Dark Chocolate and Caramelized Banana Oatmeal and order a fresh banana, and mix in only the nuts and chocolate chips mix. Be sure to ask for a plastic knife to cut the banana. The problem with this option is that it's more expensive and requires you doing the work of cutting up the banana.
I think Starbucks could have made this a much more delicious thing AND added in a caramel flavor by adding in only the nut and chocolate chip mix, have the baristas slice a banana, and have the baristas add a touch of caramel drizzle in stores at the very end. However, I don't see Starbucks doing this. It would be a lot for the morning rush labor to absorb.
Also new in the store in the Pumpkins Cheesecake Bar: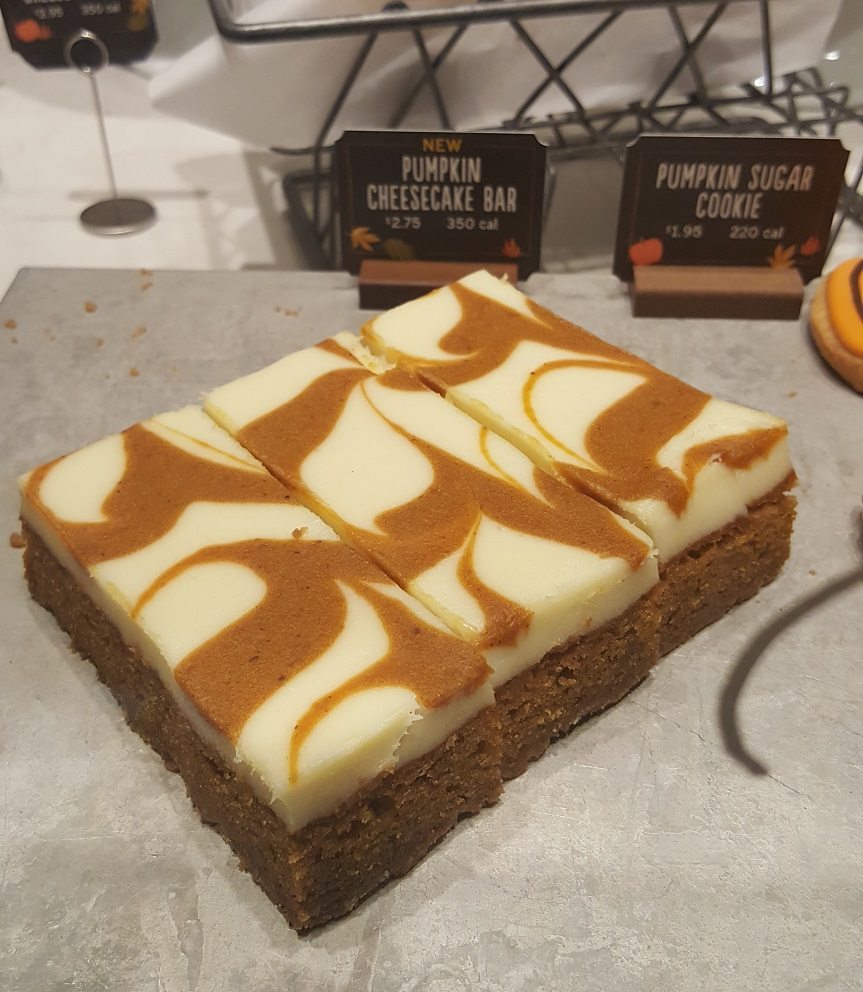 You can also order this in a pack of 5 bars: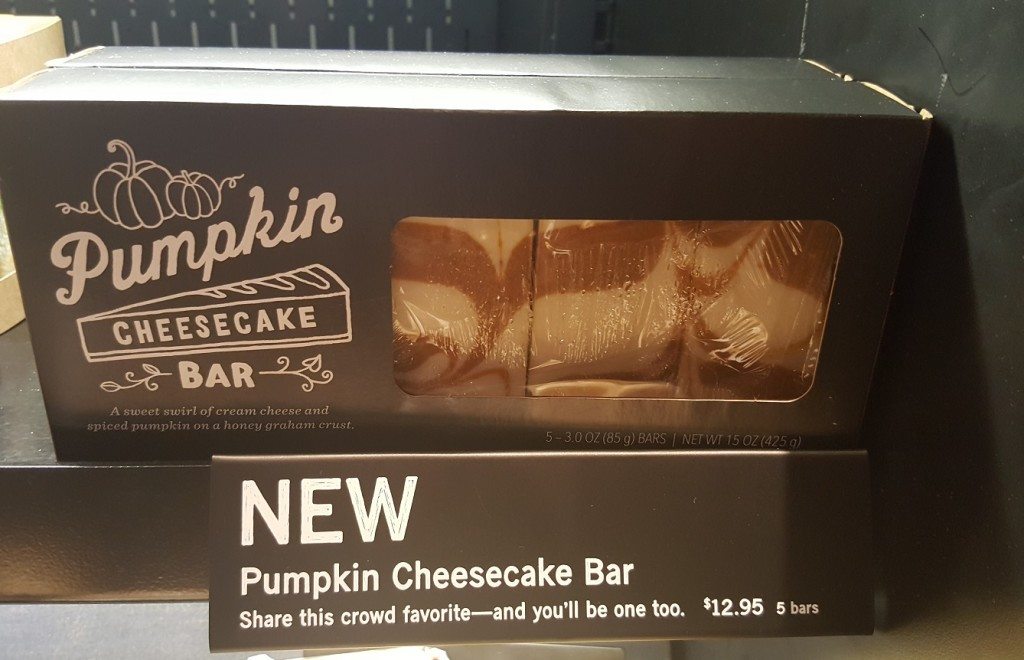 Try this paired with Anniversary Blend, which returned to the stores also on September 6th. Anniversary Blend is in its 45th year at Starbucks. When it was launched in 1996, the store theme was the spirit of 1971, complete with funky signage and tie-dyed t-shirts for partners.
This year's Anniversary Blend is very spice forward, with a strong Aged Sumatra component. Barista Eric managed to take 10 seconds with me to try it with the new Pumpkin Cheesecake Bar: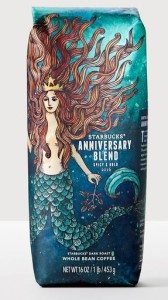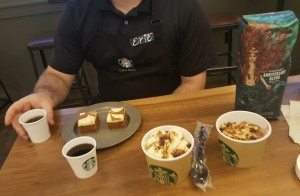 This is a great pairing. The cream cheese frosting actually cuts and balances the spice component. Both are such heavy, rich flavors that one doesn't overwhelm the other. Try this and tell me what you think!
Also new is the Caramelized Apple Pound Cake, which I haven't yet tried.
As always, it's your turn to weigh in now.
Related posts