Seattle's Belltown neighborhood gets a brand new Starbucks.
Melody, March 5, 2013
8
2 min

read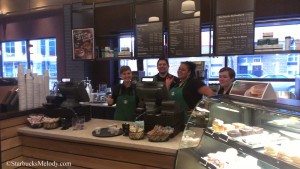 Belltown gets a new Starbucks:
There is a brand new Starbucks in Seattle's Belltown neighborhood.  This store had its grand opening on March 4, 2013,  at 5:00 a.m.  I dropped by on opening day, and took some photos.   It's gorgeous.  I love the wood encasing the espresso bar and register area.  I like the stylish cold case built into the wall.  I love that it has a spacious lobby with a community table, booths, and windows looking out at Fifth Avenue in Belltown.
The store is located on the corner of Fifth and Battery.  Seattle's famous Monorail runs along Fifth Avenue in Belltown, and so you can see it from the store.  It's also just a short distance from Seattle's iconic "Pink Elephant Car Wash," which features a neon pink elephant that has been there since 1956.   This Starbucks is  just a short walk to a number of iconic Seattle structures.
One of the most striking things about this store is the mural on the back wall seating area.  Starbucks commissioned a local artist who created an artistic rendition of the sights of Belltown, as seen from the Monorail.  The Starbucks store design team really put a lot of TLC into this store! (Whether a store is licensed or company-operated, Starbucks store designers from the headquarters are involved in its design.) By the way, I love the ceiling lights too.
The actual address is 521 Wall Street, Seattle, Washington, 98121.  (The actual building extends the full block, from Battery Street to Wall Street.)  The store hours are fairly long.  Monday through Thursday, the store is open from 5:00 a.m. to 10:00 p.m.  The store will be open 7 days a week, with the shortest hours on Sunday, closing at 4:30 p.m.
Just take a look at how pretty this store is.  One thing which is remarkable, if you didn't know it, is that this is a licensed location.  I met the store manager, Robin, who was very excited about her new store.  The team wanted to be photographed for the blog!  I recognize that sometimes some customers are skeptical of licensed Starbucks locations.  But, I can definitely say, I have seen some licensed stores that really do a great job of bringing the Starbucks experience to life.  And, I have seen some company-operated Starbucks which disappoint.  I'm very confident that this will be a great store! 🙂
Enjoy the photos, and don't be shy!  Please leave a comment.  (As always, I hope you will "like" this site too.)
Related posts