Soup's on at the Children's Hospital Starbucks
Melody, July 17, 2010
33
3 min

read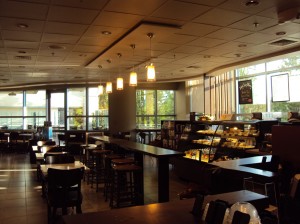 Today (July 16, 2010) is the grand opening of the brand spanking new Starbucks inside Children's Hospital in Seattle.  This beautiful new Starbucks is designed to be a warm and welcoming place for children, and a home away from home for the hospital staff, parents, patients, and their unique customer base.
This store offers hot soup!  It is the only North American Starbucks-branded store offering soup (the two "streetlevel" Starbucks have soup, but are not logo-ed stores).  I went up to the register and ordered soup and passion tea lemonade, since it was a warm day out.  Note that the barista, without asking my name, wrote "Starbucks Melody" on the cup.  I was pretty stunned.  I think I have met him only once before.  I tried the soup! I had a small cup of a roasted pepper tomato soup which was just delicious.  I recommend having soup if you're at this store!
Please do not have the mistaken belief that you can just walk right into the store: Because the store is inside the actual hospital, everyone must have a visitor's badge.  I too got a visitor's badge that said I was here to visit "Cafeteria/Starbucks".  This blog post will be a story mostly told with photos, since this store is so photogenic.  I love the old coffee stamp wall art.  I have heard that the wall art of coffee stamp images was selected because of the many large and fun to look at animal images:  It is true, many of the coffee stamp designs are very children-friendly.  The hospital's main colors (in terms of its style and interior design) are blue and orange, and so the store picks up some of those colors with orange seating in places.  The wood for the bar areas is reclaimed wood from the Lake City area of Seattle.
I took lots of photos of the store.  Notice that the store has some new version of a warming oven that is much more sleek in design than what is typically found at a Starbucks.  While it may look more space age, I asked about it, and learned that it does the exact same thing as the old warming oven: It warms sandwiches, just a different design.
The store hours are Monday through Friday from 6 am to 11 pm, and Saturday and Sunday from 6 am to 9 pm.  The walking area between seats is designed to extra wide to accommodate wheelchairs, if needed.  I noticed the whole bean wall is tiny, but given the unique needs of this store (serving primarily hospital staff and patients) that almost makes sense.  The children who are patients will have no interest in whole bean, and probably coffee for home is not what most of the hospital staff are coming here for.  I previously wrote a blog entry announcing that this special store was under construction – If anyone is interested in looking at that, it is here.
What do you think of this fabulous store? (I love it!).  Talk about this store or anything Starbucks related. (All the photos here were taken today, July 16, 2010)
Related posts